Tickets for all major BYU Arts events in November 2016 will be available beginning Monday, Oct. 3. Patrons can purchase tickets in person at the BYU Ticket Office in the Harris Fine Arts Center or Marriott Center, by phone at 801-422-2981 or online at byuarts.com
Join us for a variety of dance, music and theatre performances scheduled to take place throughout the month of November. Performances include Tenebrae's Messiah (Nov. 10-11), BYU Philharmonic (Nov. 16), Ballet Showcase (Nov 4-5), BYU Men's Chorus and Women's Chorus (Nov. 4-5), David Archuleta and Nathan Pacheco (Nov. 25-26) and much more.
Please visit byuarts.com for additional details on these events.
BRAVO! Professional Performing Arts
UTAH SYMPHONY
DATE(S): Nov. 3
VENUE: de Jong Concert Hall
TENEBRAE: MESSIAH
DATE(S): Nov. 10-16
VENUE: de Jong Concert Hall
SELECTED SHORTS
DATE(S): Nov. 18
VENUE: de Jong Concert Hall
CHRISTMAS WITH DAVID ARCHULETA AND NATHAN PACHECO
DATE(S): Nov. 25-26
VENUE: de Jong Concert Hall
School of Music
BYU SYMPHONIC BAND
DATE(S): Nov. 2
VENUE: de Jong Concert Hall
BYU MEN'S CHORUS AND WOMEN'S CHORUS
DATE(S): Nov. 4-5
VENUE: de Jong Concert Hall
BYU FOLK MUSIC ENSEMBLE
DATE(S): Nov. 8
VENUE: Madsen Recital Hall
BYU JAZZ ENSEMBLE
DATE(S): Nov. 12
VENUE: de Jong Concert Hall
COUGAR MARCHING BAND
DATE(S): Nov. 15
VENUE: de Jong Concert Hall
BYU JAZZ VOICES
DATE(S): Nov. 16
VENUE: Madsen Recital Hall
BYU PHILHARMONIC
DATE(S): Nov. 16
VENUE: de Jong Concert Hall
GAMELAN BINTANG WAHYU
DATE(S): Nov. 17
VENUE: Madsen Recital Hall
AMERICAN PIANO QUARTET
DATE(S): Nov. 18
VENUE: Madsen Recital Hall
EVENING OF PERCUSSION
DATE(S): Nov. 18
VENUE: Pardoe Theater
UNIVERSITY ORCHESTRA & UNIVERSITY STRINGS
DATE(S): Nov. 29
VENUE: de Jong Concert Hall
SYNTHESIS
DATE(S): Nov. 30
VENUE: de Jong Concert Hall
Department of Dance
BALLET SHOWCASE
DATE(S): Nov. 4-5
VENUE: Richards Building
dancENSEMBLE
DATE(S): Nov. 11-12
VENUE: Richards Building
Performing Arts Management
NOTEWORTHY
DATE(S): Nov. 19
VENUE: de Jong Concert Hall
Writer: Preston Williamson
Utah Symhony
Utah Symphony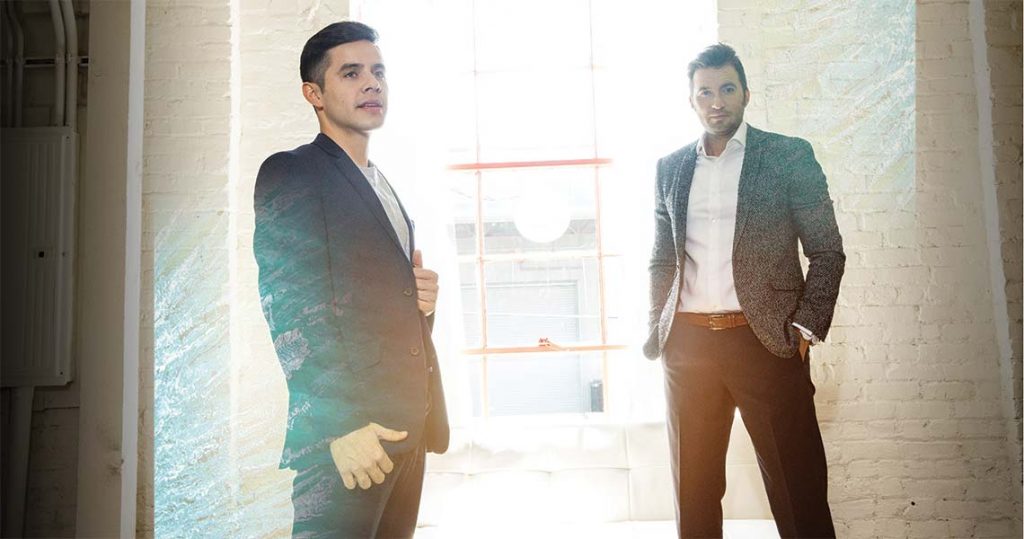 David Archuleta and Nathan Pacheco
Utah Symphony