"at the exactest point" by Stephen Jones
A new composition by the dean of the College of Fine Arts and Communications at Brigham Young University will enjoy a world premiere by the Chicago Symphony Jan. 8-10, 2004, at the Chicago Symphony Center.
Stephen Jones' "at the exactest point" will be conducted by Sir Andrew Davis, music director of the Chicago Lyric Opera, in a program that will also include Prokofiev's Suite from "Cinderella" and Rachmaninoff's Piano Concerto No. 3 with soloist Louis Lortie.
Jones will attend the performances and participate in preconcert lectures with Augusta Read Thomas, Chicago Symphony Orchestra composer-in-residence.
"It's the culmination of a life-long dream," said Jones, who began his love affair with the symphony orchestra at age 12 when he persuaded his parents to buy season tickets to the Utah Symphony.
While regular Utah Symphony patrons seemed to avoid then-Maestro Maurice Abravanel's ambitious programming of new works, the young Jones from Murray, Utah, was fascinated, and ultimately received music composition degrees from BYU and the College-Conservatory of Music at the University of Cincinnati.
Jones was awarded the commission from the Chicago Symphony in 1998 after submitting a tape of his "Sing the Earth"--performed by the Utah Symphony during the 1995 Utah Arts Festival--to resident composer Augusta Read Thomas.
"The Chicago Symphony has a program that commissions emerging American composers," said Jones. Thomas contacted him shortly thereafter to ask if she could submit it to Chicago Symphony music director Daniel Barenboim, who ultimately approved the commission.
Like "Sing the Earth," which was based on a text by BYU poet-in-residence Leslie Norris, "at the exactest point" is a 17-minute piece for full orchestra inspired by a line from "An Ordinary Evening in New Haven" by American poet Wallace Stevens.
The "exactest point," explained Jones, is the moment of revelation or epiphany, a moment "transfixing by being purely what it is."
"For me, art is a means of helping us come to such a point of arrival or discovery. It's about creating something that causes people to feel," he said. "The poem spoke to me in a real way, because I like music that speaks to the soul and deposits a sense that stays with you."
While it has a fast-slow-fast structure, it is a continuous work played without pause, with both foreground and background instrumentation.
"The theme begins in the trombone section where it is stated in a confined register and then expands in range throughout the other instruments," Jones said. "In the background is some very energetic orchestral writing where all the instrumentalists are soloists, playing in and out of focus."
The opening material influences the entire work and is heard again at the end of the piece. "I love the idea of returning, of reusing and reworking material," he said of the work's structure.
"I hope that listeners will hear in my work a music that is lyrical and solidly connected to the principles of the past, but that is also new. Line, melody, counterpoint and harmonic progression are things I work on very hard and things that matter to me a great deal," he said. "I like to believe that pieces are journeys, and audiences should hear the work leading them to some arrival."
Jones has been busy with other commissions, including a work called "Passages" that was performed by the Meadows Wind Ensemble of Southern Methodist University during a recent tour of the British Isles and recently recorded by that ensemble.
He is also at work on his most recent commission from BYU's Barlow Endowment for Music Composition: a work for the BYU Philharmonic commemorating the 200th birthday of Joseph Smith that will premiere fall semester 2005.
Writer: Cecelia Fielding
JONES1-H.jpg
Mark A. Philbrick/BYU Photo
JONES2-H.jpg
Mark A. Philbrick/BYU Photo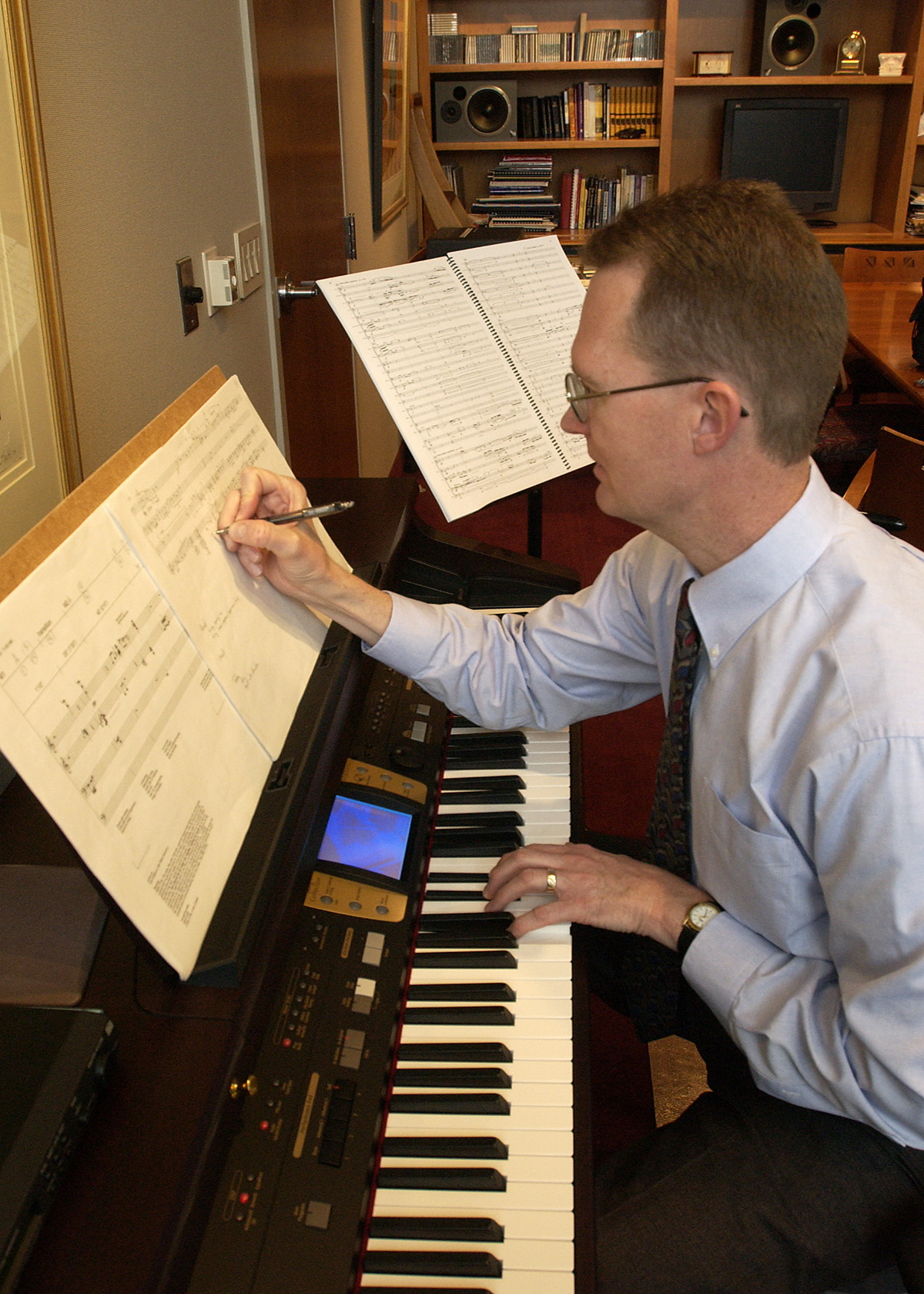 JONES3-H.jpg
Mark A. Philbrick/BYU Photo