The lens of a camera does an incredible job of capturing the most nuanced detail within the scope of its frame. However, even the most sophisticated lens has limitations when compared to the human eye. BYU Professor Paul Adams found the same is true when taking on a seemingly straight forward photography assignment: there is often more than what you had expected to see through the lens.
Last year, Adams, who teaches photography in the College of Fine Arts and Communications, was contacted by a fellow BYU faculty member asking if he could travel to Tonga to photograph ancient artifacts. It seemed like a fun assignment, so Adams accepted and asked John Telford, a retired photography professor, to accompany him on the trip. A couple weeks later, the two men were on their way to the island.
Stepping off the plane in Nuku'alofa, Tonga, the two photographers had no idea that they would soon have an experience of a lifetime. What they thought to be a trip photographing artifacts turned out to be a special invitation to the biggest celebration in Tonga.
In 2012, King Tupou VI became the new king of Tonga. After three years of planning and preparing, King Tupou was to be officially crowned during the coronation festivities held in June and July 2015. The king's coronation was a historic ceremony that has been practiced for hundreds of years, but up close and personal photographs had never been taken of the event. Upon arrival, Adams and Telford were informed of their duties of becoming the queen's official photographers for the coronation.
"All we knew is that we would be photographing artifacts," said Adams. When the men were informed of their actual assignment, they both felt deeply honored.
"It was such a privilege and honor to be there and take photographs at the ceremonies," said Telford. "The longer I was there, the more I realized how significant the ceremonies were."
Media from all over the world came to Tonga, but only Adams and Telford had access into the ceremonies, such as the formal coronation in the Methodist Church. The photographers were also given access to photograph the king inside the fale, a hut decorated with emblems and symbols of the monarchy, where the king drank the kava during the historical Kava Ceremony.
Though the men had been given access by the queen, it wasn't always easy to take photographs. "At first, it was a constant battle with the guards and police for access," said Adams. "Over time though, we became known as the queen's photographers and the guards stopped trying to throw us out."
After two weeks in Tonga, Adams and Telford left with lasting impressions.
"The people of Tonga were the most lovely, loving friendly people I've ever met," said Adams. "If you adapt and become like their culture, then you will have the most enjoyable experience."
_W6A2043.jpg
Jaren S. Wilkey/BYU Photo
_W6A2604.jpg
Jaren S. Wilkey/BYU Photo
Coronation_10.jpg
Jaren S. Wilkey/BYU Photo
Coronation_12.jpg
Jaren S. Wilkey/BYU Photo
_W6A3157.jpg
Jaren S. Wilkey/BYU Photo
_W6A3293.jpg
Jaren S. Wilkey/BYU Photo
_W6A3556.jpg
Jaren S. Wilkey/BYU Photo
_W6A3605.jpg
Jaren S. Wilkey/BYU Photo
_W6A3632.jpg
Jaren S. Wilkey/BYU Photo
_W6A3980.jpg
Jaren S. Wilkey/BYU Photo
_W6A3986.jpg
Jaren S. Wilkey/BYU Photo
_W6A4124.jpg
Jaren S. Wilkey/BYU Photo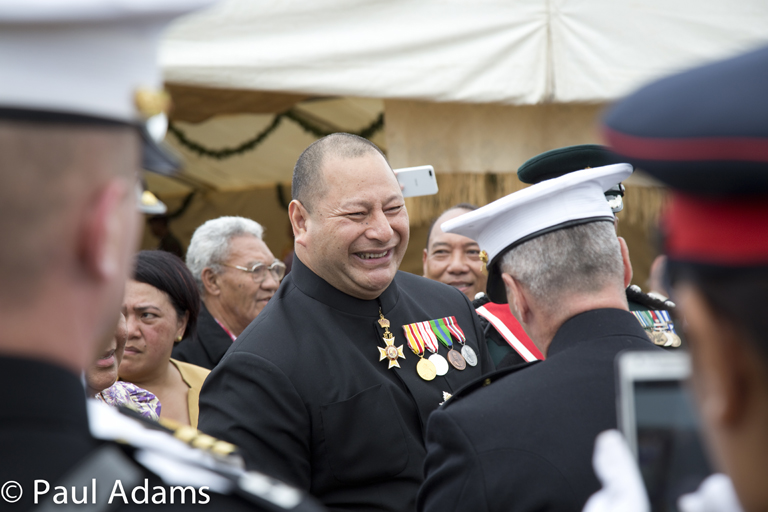 _W6A4813.jpg
Jaren S. Wilkey/BYU Photo
_W6A4867.jpg
Jaren S. Wilkey/BYU Photo
GoPro_Kava_03.jpg
Jaren S. Wilkey/BYU Photo
GoPro_Kava_79.jpg
Jaren S. Wilkey/BYU Photo
King___Kava_49.jpg
Jaren S. Wilkey/BYU Photo
King___Kava_50.jpg
Jaren S. Wilkey/BYU Photo
Liahona_12 (1).jpg
Jaren S. Wilkey/BYU Photo
Liahona_46.jpg
Jaren S. Wilkey/BYU Photo
Methodist_Celebration_43.jpg
Jaren S. Wilkey/BYU Photo