Six-wheeled robot rolls, climbs and claws through Mars-like terrain
BYU rover placed 1st among U.S. teams
Team placed 2nd overall in the competition
BYU had top score in the presentation task
16 students from Fulton College of Engineering worked on rover
The BYU Mars Rover has never been to Mars, but it has traversed the closest thing to the harsh, rocky and dry conditions of the Red Planet: a patch of desert outside Hanksville, Utah.
Last week, the rover navigated the alien-like terrain at the Mars Desert Research Station on its way to a 2nd place finish at the University Rover Challenge, hosted by the Mars Society. The feat matched BYU's highest finish in the competition, the world's top planetary rover event for college students.
BYU's student-built rover rolled, climbed and clawed its way past challengers from across the world-teams came from Egypt, Poland, India, Canada and Bangladesh-and across the United States, including rovers built by Yale and Cornell.
"Even if we had not placed so high, I would have been extremely proud of this team," said faculty coach Eric Homer. "They met every challenge with optimism and were fantastic to work with."
BYU has built a rover from the ground up every year for the competition since 2007. Last year's team significantly redesigned the rover, going from a four-wheel design to the current six-wheel model.
This year's BYU team also charted new territory, controlling their rover exclusively over a Wi-Fi network as it traveled a half-kilometer (1/3 mile) out of sight. Multiple cameras on the rover produced a video feed that was relayed to the control station as the rover performed a series of tasks.
"Using the Wi-Fi extended our range, our control and our ability to receive GPS feedback from the rover," said Sam Bury, one of 16 BYU students on the team led by Homer and fellow faculty coach David Allred.
The competition required each rover to complete four tasks:
Terrain Traversal: Travel over large boulder fields, slopes up to 50 degrees and off ledges three feet tall
Astronaut Assistance: Find objects (such as hand tools) using GPS, recover them and deliver them to specified locations
Soil Sampling: Collect a sample with robotic arm; test sample for humidity and pH levels while onboard the rover
Equipment Servicing: Manipulate valves, switches on a test stand
Scores for each task, combined with a presentation score, were totaled to distinguish top finishers. BYU's rover nailed the top score in the Terrain Traversal task while also recording the top score for overall presentation.
Allred, Homer and Bury are already making plans for next year to improve their scores in the two tasks that challenged them the most-Soil Sampling and Astronaut Assistance.
The BYU Mars Rover team is sponsored by the Mechanical Engineering Department. Mechanical engineering and manufacturing engineering technology students work on the rover as part of the Capstone program, while electrical and computer engineering students either volunteer or take the course for research credit.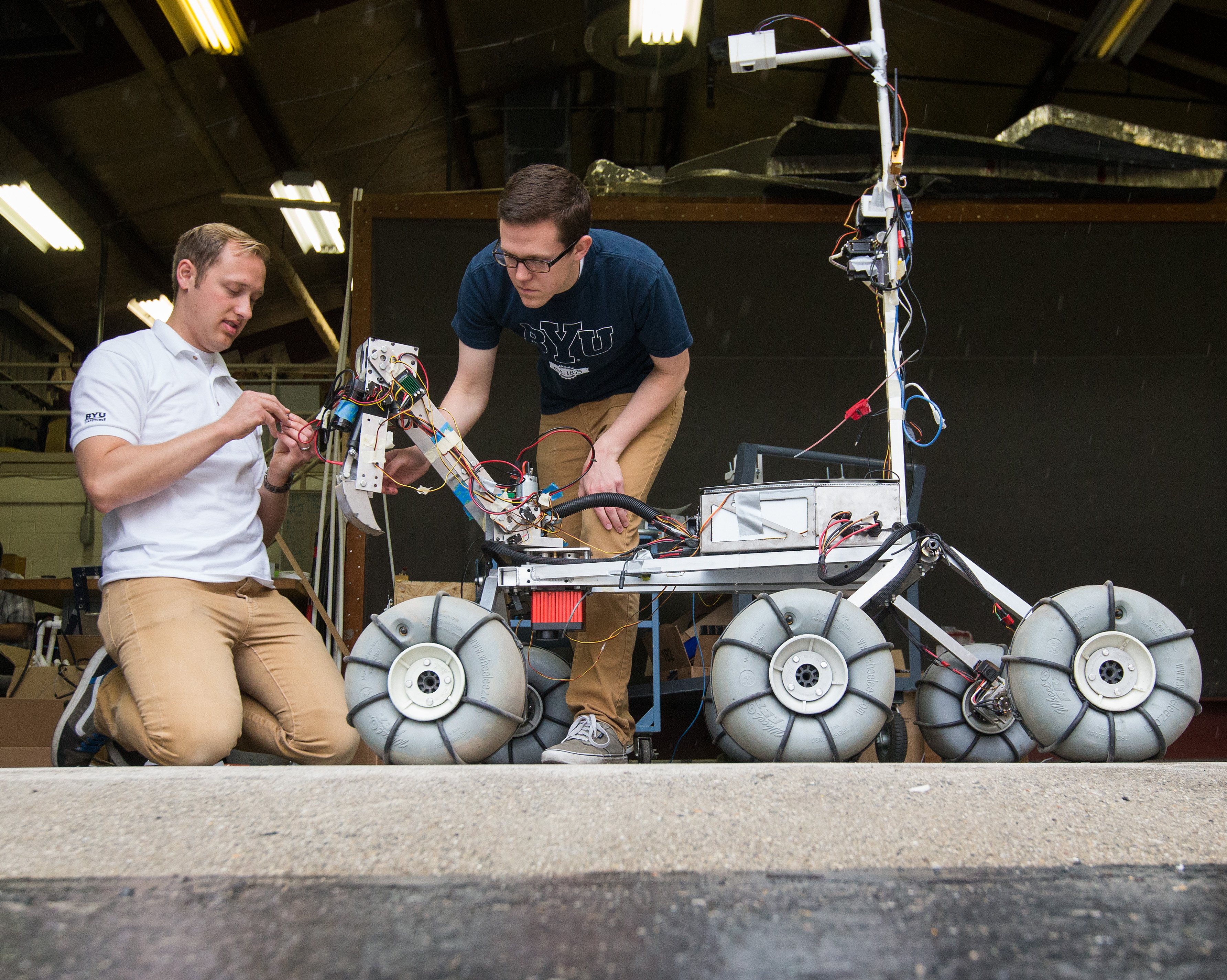 1505-62 245.jpg
Jaren S. Wilkey/BYU Photo
VideoFeed.jpg
BYU Mars Rover
TeamShot.jpg
BYU Mars Rover
BigEdit.jpg
BYU Mars Rover