Tickets and Show Details
Performance Dates and Times: Feb. 8-10 and 15-17 at 7 p.m. with 2 p.m. and 4 p.m. matinees on Saturday, Feb. 11 and 18. ASL interpretation Thursday, Feb. 16.
Location: Margetts Theatre, Harris Fine Arts Center, BYU
Price: Weekdays $6, Weekends $7
Tickets: Available in person at the BYU Ticket Office in the Harris Fine Arts Center or Marriott Center, by phone at 801-422- 2981 or online at byuarts.com
The BYU Department of Theatre and Media Arts (TMA) presents BYU Young Company's production of Macbeth. The show will be at the Margetts Theatre in the Harris Fine Arts Center Feb. 8-10 and 15-17 at 7 p.m. with 2 p.m. and 4 p.m. matinees on Saturday, Feb. 11 and 18. ASL interpretation will be Feb. 16.
Young Company will perform a unique rendition of Macbeth targeted for young people ages 9-14 years old, although the story and performance is meant to be enjoyable for ages 10 and older. The play has been adapted for a 55-minute run time.
When director Teresa Love was approached about directing a Young Company version of Macbeth, she knew this was her opportunity to get children excited about Shakespeare. Instead of just creating what she thought would be the most interesting production, she decided to collaborate with youth to learn their thoughts and interests.
Love noticed many of her students who were about to graduate from college had never seen a Shakespeare play. The majority read some of his plays in high school, but had not enjoyed the experience.
"The stories are wonderfully engaging and are meant to be performed, not read sitting on a hard classroom chair and parsed and analyzed to death," Love said.
Love was determined to introduce young people to the rich and universal themes of Shakespeare in a way they would enjoy. To begin with, she orchestrated a focus group of boys ages 9-14. When introduced to the story of Macbeth, the boys drew connections with Star Wars and Harry Potter. The feedback received from these boys guided the creative team's decisions on acting, costume and set designs.
Early on in the rehearsal process, the boys were brought back to give feedback. This helped the team recognize what messages they were successfully getting across and what messages needed to be clarified. As the Young Company performers finalize and finish rehearsals they will continue working with the focus group.
"We are excited to take Shakespeare's tale to audiences in schools and we think audiences here at BYU will also enjoy the production," Love said.
The production is staged in the round to create an immersive experience for audience members. Live drumming accompanies the scenes and the designs represent both ancient Scotland and contemporary fantasy game play. The performance will include Bunraku puppets, which the puppeteers will manipulate in full sight of the audience.
"I find puppetry to be enormously evocative and thought the witches could be effectively portrayed to this type of audience through puppetry," Love said. "These are not big mouth Muppet type puppets, these are creatures that look as if they exist upon a 'blasted heath' in ancient Scotland."
Young Company tours to elementary schools across the Wasatch Front throughout the semester. The show will be performed in the round in multi-purpose rooms, cafeteria floors or school gyms.
More about Young Company at Brigham Young University
Young Company is a training ground for students who want to work in theatre for young audiences, or theatre education. The group has performed plays such as Go Dog Go!, Midsummer Night's Dream, A Thousand Cranes, Cymbeline, and most recently, Cyrano and Twelfth Night. Young Company tours elementary and junior high schools all over Utah sharing their love of the theatre with young audiences.
Director: Teresa Dayley Love
Actors: Tristan Foster, Andrew Smith, Jake Earnest, Clara Richardson, Brittni Henretty, Chris Rollins, Taylor Stroupe, Tommy Kendall, Derek Johnson, Hannah Wood, Sophie Determan
Writer: Bailey Fruit
Macbeth
Jaren S. Wilkey/BYU Photo
Macbeth and Lady Macbeth
Jaren S. Wilkey/BYU Photo
Macbeth
Jaren S. Wilkey/BYU Photo
Macbeth and Banquo
Jaren S. Wilkey/BYU Photo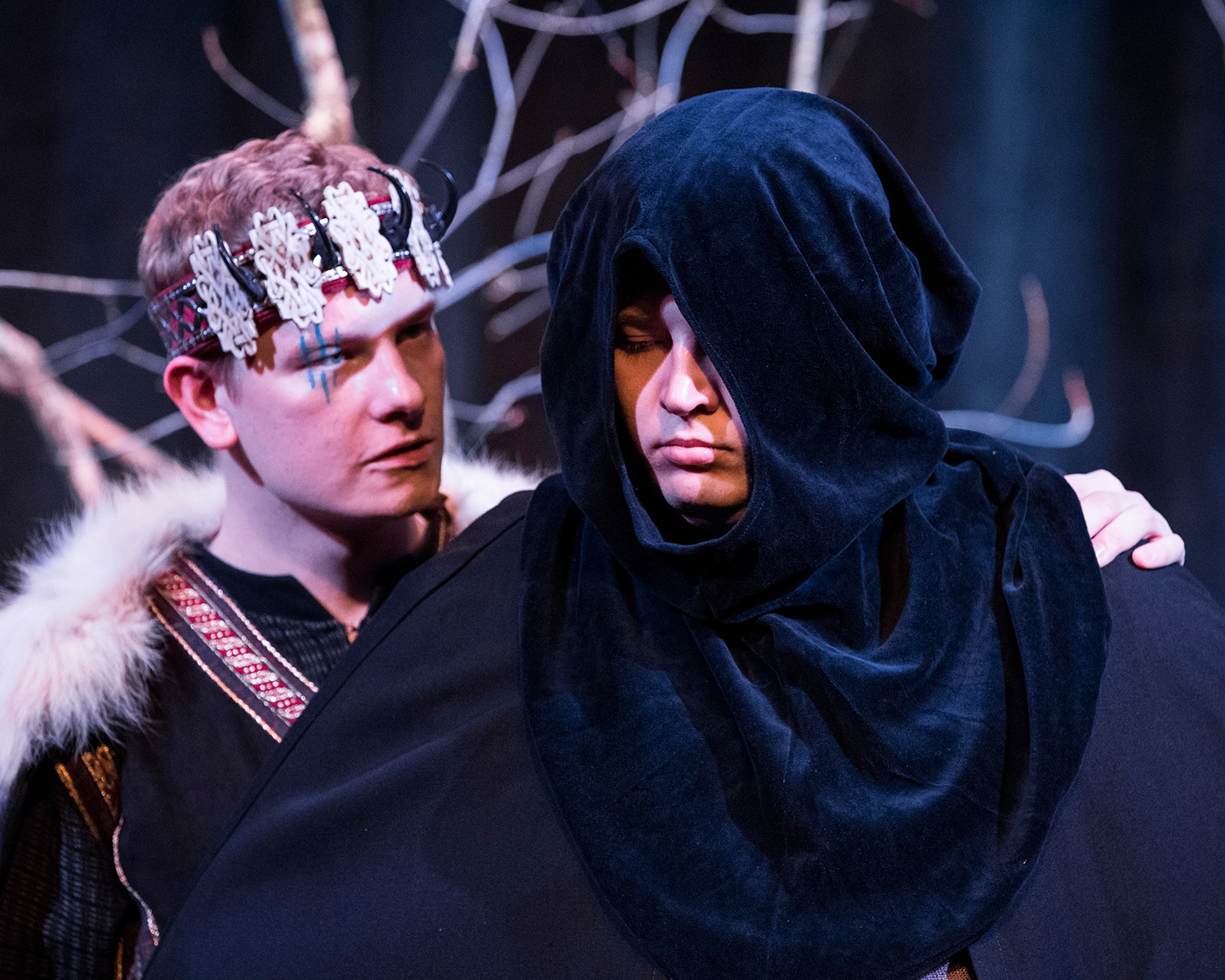 Macbeth and Murdered 1
Jaren S. Wilkey/BYU Photo