Performance Dates: Jan. 26-28 and Jan. 31 – Feb. 4 at 7:30 p.m. with Saturday matinees at 2 p.m. ASL interpretation Thursday, Feb. 1
Location: de Jong Concert Hall, Harris Fine Arts Center, BYU
Price: $13-$24
Tickets: Available in person at the BYU Ticket Office in the Harris Fine Arts Center or Marriott Center, by phone at 801-422- 2981 or online at byuarts.com
The BYU Department of Theatre and Media Arts and the interdisciplinary Music Dance Theatre Program presents Disney and Cameron Mackintosh's Mary Poppins beginning Jan. 26. BYU's new and unique take on this classic production is a chance to develop characters while strengthening families, and is full of learning and magic for all.
The performance is scheduled to run Jan. 26-28 and Jan. 31 – Feb. 4 at 7:30 p.m. with Saturday matinees at 2 p.m. The Symphony Orchestra will be performing live under the direction of Christian Smith. Tickets are available at the BYU Ticket Office in the Harris Fine Arts Center or Marriott Center, by phone at 801-422-2981 or online at byuarts.com. Ticket prices range from $13-$24.
"Mary Poppins is not just a children's story," said George Nelson, director. "It's really a very important call, I think, for families to examine themselves and see how they are doing. It's really a story about a family that is in crisis and in answer to their prayers an angel is sent to help them."
Nelson first saw Mary Poppins in London and remembers not liking it. He felt the production focused too much on magic and missed the opportunity for the audience to see the characters develop and change.
Traditionally, much of the conflict throughout the musical is solved off stage between characters. Nelson opted to take these discussions on stage through dances and to give the audience an opportunity to see the transformation happen in "real time" within the family.
"I don't go to the theater for spectacle, I go to a fireworks show if I want to see spectacle," Nelson said. "I go to the theater to engage emotionally with characters, with story and with song. To me the story is powerful and if I tone back the magic and amp up the characters then the character arcs that are going on in the story become what is going to help the audience to really have a wonderful experience in the theater."
Beyond the unique additions of character development, the show also includes two Marys and a unique set design based on inspiration gathered from a trip to London. When auditions had been narrowed down to two Marys, Cassie Austin-Taylor and Sariah Hopkin, Nelson felt they were of equal ability and both would make an excellent Mary Poppins. It was decided they would both perform. Each night Austin-Taylor and Hopkin will perform on stage together, but they will take turns as one will be doing more of the special effects such as flying while the other will be singing and acting depending on the night.
Originally from Libertyville, Illinois, Austin-Taylor is a senior in music dance theatre. She recently appeared in New York Musical Festival's Nickel Mines, and her BYU credits include Valentine in the U.S. premiere of The Count of Monte Cristo and Katy in Single Wide. Mary Poppins is the first Broadway show Austin-Taylor ever saw, and she considers Mary Poppins as sort of a role model.
"Mary can literally do anything, because she believes 'anything can happen if you let it,'" Austin-Taylor said. "Living in her world of possibility is so incredibly fun, especially as an actor. I've really loved George's concept on the entire show."
Hopkin is also a senior in music dance theatre. Hopkin has a passion for acting in film and has been in several commercials and feature films. Some of her favorite credits include Chava in Fiddler on the Roof, Jenny Hill in Big Fish and Ariel Moore in Footloose. Hopkin said playing Mary Poppins has been a great experience.
"I have fallen in love with the show and her character which, frankly, is a miracle because I used to hate both," Hopkin said. "That being said, it only took auditioning for Mary to discover a new respect for her character. I found her balance of wisdom, spunk and love very endearing."
As for the set, all of the backdrop and scenery is projected. The department was able to send Michael Handley, the scenic and lighting designer, to London where he took pictures and created his own backdrops from his inspiration. The set designs will all be unique to the production and projected onto four 30-foot-tall screens.
"We really think that our audience will leave this production not just having fun enjoying amazing dances, beautiful voices, costumes and sets, but that they will leave having been edified for being there," Nelson said.
The producer of Mary Poppins is Wade Hollingshaus, chair of the Department of Theatre and Media Arts. Artistic director is Megan Sanborn Jones. Musical direction is by Gayle Lockwood. Becky Phillips and Jenny Tingey Giauque choreographed the production. Rory Scanlon designed the costumes. Hair and makeup design is by Michaela Fordham. Production manager is Jennifer Reed. Sound design is by Doug Olsen.
Post-performance discussions are on Jan. 26 and Feb. 2. An ASL interpreted performance is Feb. 2.
Writer: Bailey Fruit
1701-71 0229.jpg
Jaren S. Wilkey/BYU Photo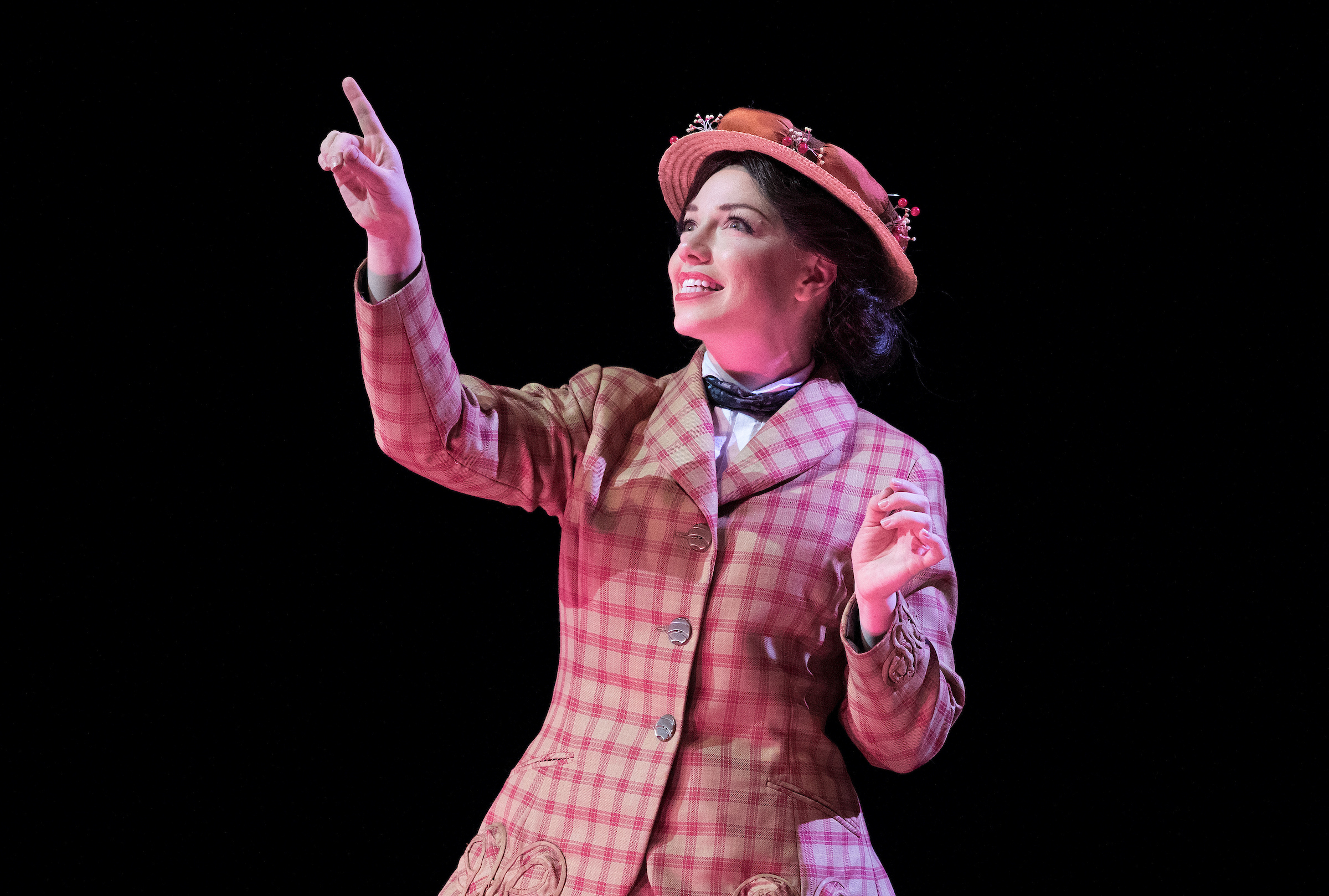 1701-71 0377.jpg
Jaren S. Wilkey/BYU Photo