Keep an eye out for Jordan Kamalu. Or rather an ear. Kamalu, a BYU commercial music studies major who is graduating this month, has been surrounded by music from a very young age. Throughout his university experience, composing music has given him unique opportunities and even earned him a Student Emmy nomination.
A Focus on Composing
Before going to college, Kamalu had already received two awards for composing music. Winning the National PTA Reflections contest his senior year in high school gave Kamalu a vision of how he could make a living by doing what he loved. That's the dream isn't it?
"Music was something that I excelled at and enjoyed doing," said Kamalu. "I really didn't see any other way of making money that would be as enjoyable."
From that moment forward, composing became Kamalu's focus.

The Road to BYU
Kamalu was accepted into Berklee College of Music in Massachusetts. Berklee was his top choice due to their music program, but he knew he couldn't afford to stay there all four years. After one year at Berklee, Kamalu began looking at alternative colleges. He knew he wanted to attend a school back home in Utah for several reasons.
"BYU was the top choice for me because of the schools in Utah, I felt like BYU had the best music program for what I was interested in," said Kamalu. "I've also been gigging since high school, so my name was well known and I knew I could find work [in Utah]."
Kamalu moved back to Utah after receiving an acceptance letter from BYU. Applying for the music program was his next step.
A Film Score and an Emmy Nomination
As soon as Kamalu was accepted into the music program, he focused on composing music in as many mediums as he could to gain experience to build on his degree.
"My experience and my skills are what will get me hired, not my degree," said Kamalu. "Every opportunity I've had to build skills, I've tried to take in order to gain as much experience as I can. BYU has enabled me to gain many skills, which I am grateful for."
Writing a film score was at the top of Kamalu's priority list. When he received an email that the BYU animation team was accepting composition submissions for their animation short, Papa, Kamalu was ready to go to work. The submission requirement was to compose a two-minute score for the short, but Kamalu had other plans.
"I decided that it wasn't going to be enough to do just two minutes, so I did the entire five minutes," said Kamalu. "I just didn't feel like I could convey my vision for the music without doing the whole thing."
The animation team loved Kamalu's score and selected him to finalize the score for Papa.
Kamalu contacted Kory Katseanes, director of the BYU Philharmonic Orchestra, and asked if he would let the orchestra record for the short. As soon as Katseanes agreed, Kamalu began writing the score for each instrument.
"The funnest part of creating the film score was recording with the orchestra," said Kamalu. "It was fun to watch Kory conduct. In the future, I hope to be able to conduct my own scores."

As great as it was composing the music for Papa, it got even better when Kamalu was nominated for a Student Emmy in music.
"It was exciting getting the call informing me that I was nominated for an Emmy," said Kamalu. "I was actually teaching a piano lesson and had to step out to take the call."
The Student Emmy awards will be announced in May. In the meantime, Kamalu will graduate and continue composing. His goal is to create music for film, Broadway and pop music. For Kamalu, the sky is the limit.
1603-57 012.jpg
BYU Photo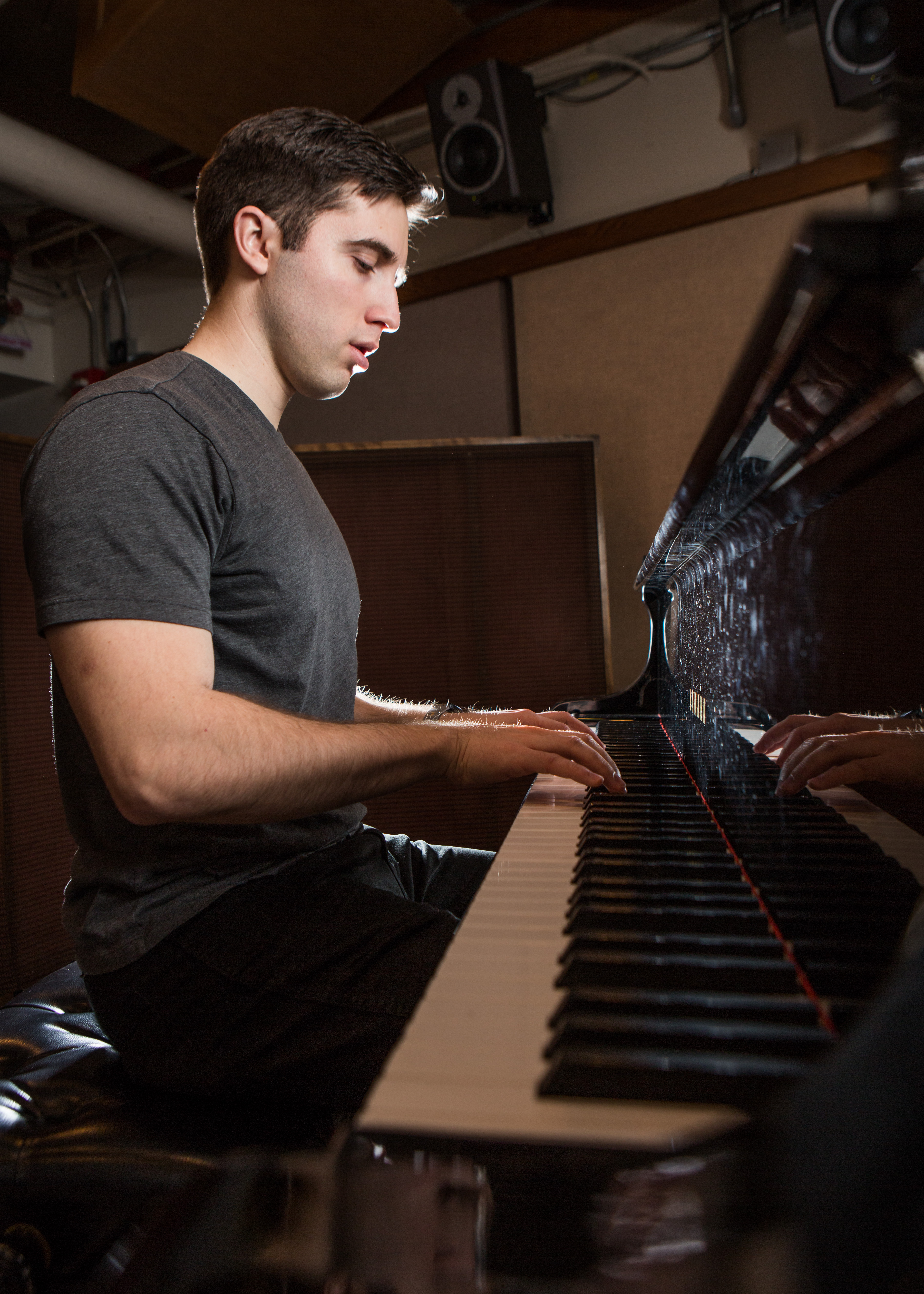 1603-57 027.jpg
BYU Photo