Date and Time: November 17th at 7:30 p.m.
Location: Madsen Recital Hall, Harris Fine Arts Center, BYU
Price: $6
Tickets: byuarts.com
BYU's Balinese percussion orchestra, Gamelan Bintang Wahyu, will perform on November 17th at 7:30 in the Madsen Recital Hall.
Gamelan master I Made Lasmawan, one of the most distinguished musicians in Indonesia, will be accompanying the orchestra, and his wife Ni Ketut Marni and Ni Made Nias Yunirika will also be joining the performance as dancers. Additionally, they are also joined by BYU students who learned gamelan straight from the source: on a study abroad to Bali this summer.
Music that Defines the Culture
Music is an important part of just about any culture you can think of. But for the Balinese people, gamelan (gah-meh-lahn) defines their culture. For them, gamelan is intramural soccer, temple worship, crazy concerts, movie nights and Taco Tuesday all rolled into one.
"I never met a Balinese taxi driver or vendor that hadn't learned gamelan music and dance," said Miranda Rigby, a junior studying Elementary Education at BYU. "It's part of their family structure, it's how they connect."
Harmony and balance are ingrained into Balinese life and religious worship. This is most often expressed through gamelan. Those who understand gamelan quickly come to understand Balinese culture.
When BYU's study abroad students landed in Bali, they were immediately immersed in that culture.
"We basically said, 'welcome to Bali, we have a gig in five days,'" said Jeremy Grimshaw, director of BYU's Gamelan Bintang Wahyu percussion orchestra. "All of a sudden they were thrown into rehearsal several hours a day in a foreign country."
They went to work. Students who had never played an instrument before learned to work their way around kendhang drums, bronze gong chimes, metallophone mallets and rebabs. They memorized the forms for traditional songs by rote with the help of I Made Lasmawan and other local instructors.
For the first month they played for art festivals and temple ceremonies in the villages of Bangah and Pengosekan Bali. At one point they even joined an entire village in a procession for a cremation ceremony. The group also studied with world-renowned gamelan group Cudamani.
"Culturally, we often think of religious ceremonies as being associated with solemnity," Grimshaw said. "But a Balinese religious event is all about 'rame,' meaning 'fullness' or 'boisterousness.' They honor something by surrounding it with activity. A Balinese temple ceremony is absolutely filled with people, smells, food, music, dance and decorations."
A Dance Filled with Symbolism
For their third major performance, the students contributed to the "rame" by joining their instructors at the Mekar Bhuana music and dance conservatory to perform a benefit concert with a group called Puspadi Bali, an organization that helps people with disabilities through providing prostheses, wheelchairs and orthotics. The women danced while the men played in an ancient version of gamelan.
"The thing I loved about gamelan dance is that they don't just dance because it looks pretty," Rigby said. "They dance because there's meaning behind every movement. Every part of your body is filled with purpose."
One dance that the students learned had them in the position of a warrior protecting a temple. In the dance, every movement of the eye aims to make sure that each area of the temple was safe and protected. Their shoulders were up to show that they were strong and could ward off any evil that threatened the temple.
"I was shocked at how difficult it was," Rigby said. "Sometimes you'd be in the same position for over a minute, so it took a lot of core, a lot of concentration and a lot of stamina. It was literally the hardest thing I've ever done."
Gamelan performers engage every part of their body when they dance. Toes are pointed and flexed, and the hip and waist are pointed in opposite directions. At the same time, legs are bent, hands are up, heads are tilted and fingers are bent back as far as possible.
"They inspired people to be able to do hard things," Rigby said. "They never questioned my ability to learn, even though I must have looked so awkward. As an educator, as a future mother, I think that's so beautiful."
Bringing Gamelan to BYU
For the past several months, students, faculty and community members have been training for their gamelan performance. With instruments hand-made in Bali, experienced instructors and the direction of I Made Lasmawan, the performance will be an authentic taste of Balinese culture.
"I think it's really valuable intellectually and spiritually to see another way of trying to capture spiritual ideas in a way that you're not used to," Grimshaw said. "When you see and hear gamelan, you're hearing music that is built on this really deep notion of community and cooperation. It's thrilling to see how rame, with its multisensory barrage of sights and sounds, can convey really deep ideas about divinity and devotion."
In addition to the concert, Lasmawan, Marni, and Yunirika will be presenting a free public Balinese dance workshop on Friday, November 18 at 2 p.m. in room 278 of the Richard's Building.
DSC_0522.jpg
Jeremy Grimshaw
DSC_0325.jpg
Jeremy Grimshaw
DSC_0314.jpg
Jeremy Grimshaw
DSC_0084.jpg
Jeremy Grimshaw
2016-07-10 00.36.57.jpg
Jeremy Grimshaw
2016-07-07 22.02.29.jpg
Jeremy Grimshaw
2016-07-04 21.52.34.jpg
Jeremy Grimshaw
2016-07-04 21.53.56.jpg
Jeremy Grimshaw
2016-06-29 22.14.58.jpg
Jeremy Grimshaw
2016-06-23 15.55.09.jpg
Jeremy Grimshaw
IMG_0713.jpg
Jeremy Grimshaw
Lasmawan playing beleganjur.jpg
Jeremy Grimshaw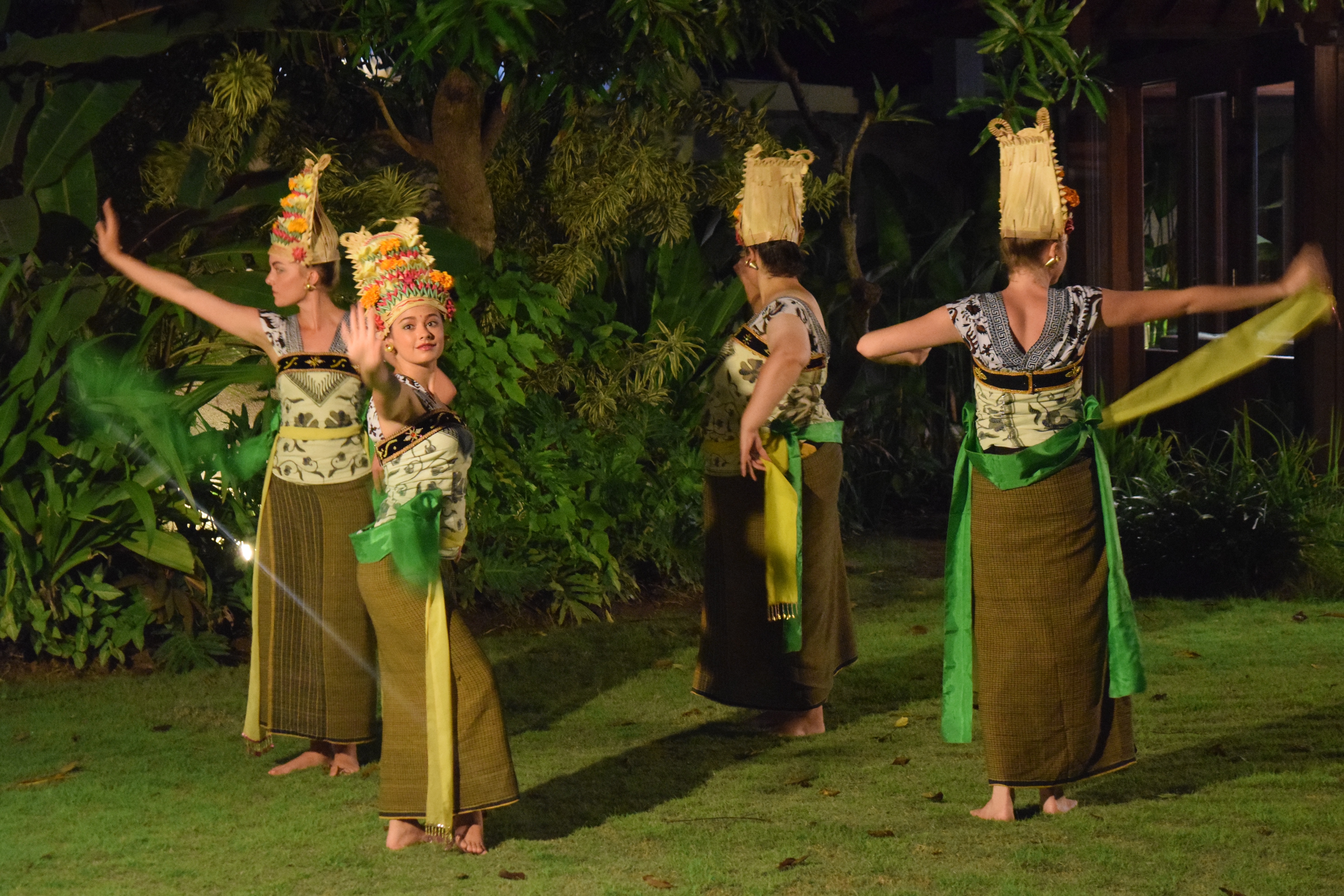 DSC_0881.jpg
Jeremy Grimshaw