From her home kitchen one evening in December, BYU Italian professor Marie Orton peered at the Zoom grid on her laptop screen, where she could see one of her students holding up a saucepan of poorly incorporated batter.
"Beat the eggs like there's no tomorrow!" she prescribed.
"Una domanda," another student piped up in Italian from his apartment kitchen. He wanted to know if Hershey's cocoa powder would work all right for his chocolate sauce (not advised, said Orton).
After the hours-long class filled with laughter, chatter in two languages and the occasional culinary mishap, Orton and her students had each produced 12 profiteroles, an Italian pastry stuffed with cream and drizzled with chocolate. The next night they made gnocchi, Orton's favorite, and in their third Zoom cooking session the class went with the students' choice, tiramisu.
The cooking sessions in Orton's Italian 361 class represent her passion for helping students to connect—with each other, with her, with the subject matter. Orton said her teaching methods are inspired partly by the examples of many colleagues in the unique language programs at BYU, which offers its students immersive course experiences in 63 languages and which ranks third in the nation for the most bachelor degrees in a foreign language.
Orton's fall class investigated what makes Italians "Italian": how history, politics, sports, fashion, music, literature and (of course) food create a common identity among a people who unified from a loose group of nation-states less than two hundred years ago.
To experience food in the slow, pleasurable way Italians do, Orton believes it's not enough to discuss it in class or even just to eat it, as many of her students have done on missions or study abroad.
HolyCanoli/2012-26 14.jpg
Ryan Campbell/BYU Photo
HolyCanoli/2012-26 2.jpg
Ryan Campbell/BYU Photo
HolyCanoli/2012-26 27.jpg
Ryan Campbell/BYU Photo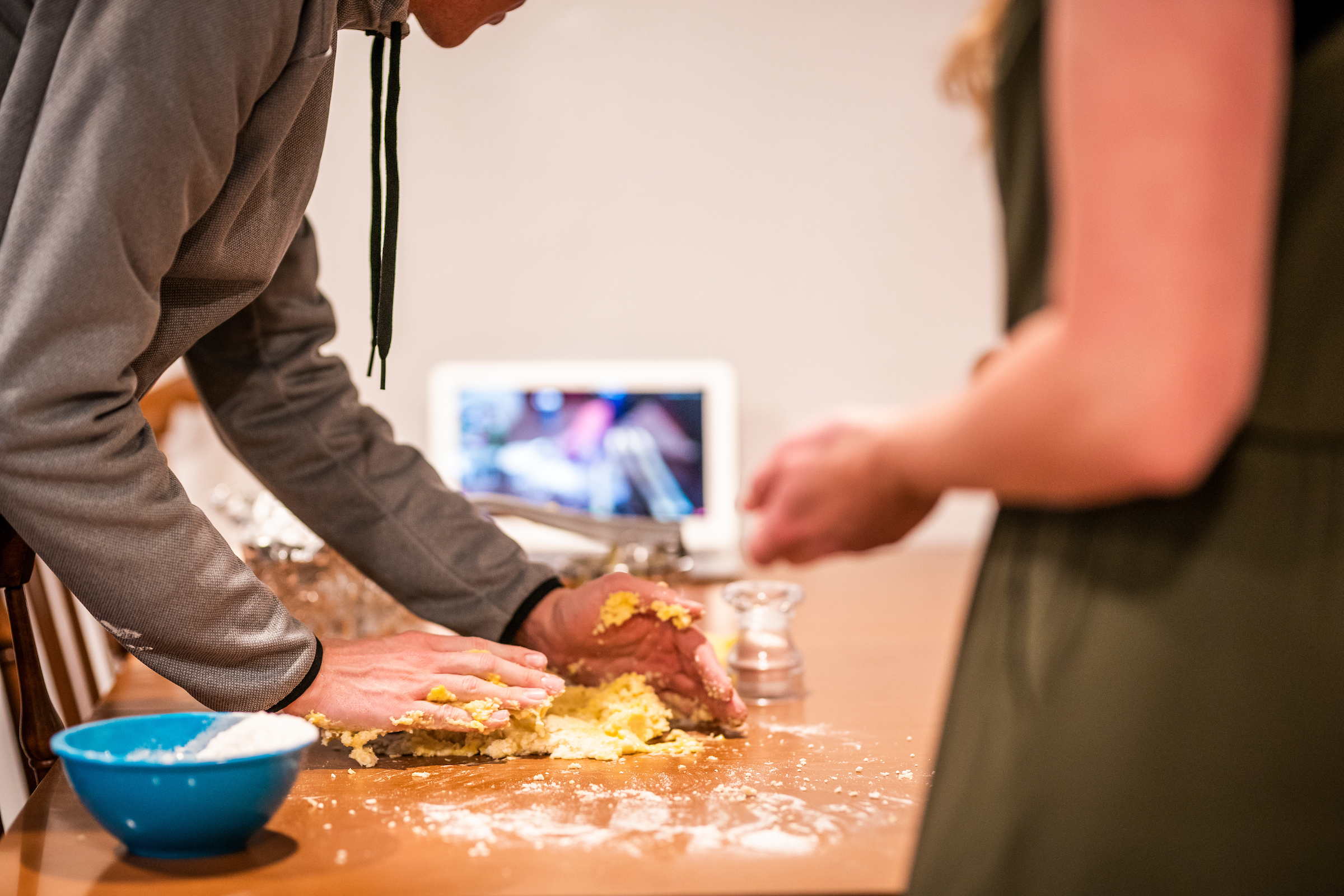 HolyCanoli/2012-26 37.jpg
Ryan Campbell/BYU Photo
HolyCanoli/2012-26 34.jpg
Ryan Campbell/BYU Photo
"In Italy, food and group identity are inseparable," she explained. "Everybody who goes there realizes very fast, food is about anticipating and preparing, cooking with other people, letting a sauce boil down for six hours and talking about it as you eat it. It's all about what we're doing together."
In-person cooking classes were a trademark of Orton's Italian culture courses even before she joined the BYU faculty in 2016. But as happened for many instructors on campus, the pandemic-induced constraints of 2020 disrupted her favorite teaching routines. She found her way forward after a visit to Richard Swan, a consultant in the Center for Teaching and Learning.
"He said, 'The things that make classes meaningful go beyond the delivery mechanism. If you like cooking food with your students, you can cook with them by Zoom,'" Orton recalled.
When she announced the (newly remote) cooking sessions at the beginning of the course, her students broke into applause—a first, Orton noted. She scheduled the sessions to be during the end of the semester, after many of the students would have returned home for online-only classes; when the time came, some of her students invited their friends and family to cook along.
For Orton, the clear highlight was making gnocchi with the class. An inexpensive potato dumpling dish traditionally made by Italian migrants short on money, gnocchi has come to be a kind of "bar for showing a cook's ability," said Orton. It's a common tradition for Italians to learn the art of making gnocchi from their grandmothers.
"The secret really is a little knowledge and having the right equipment," Orton said. "I was gratified when one of my students told me that she had made gnocchi every day since the cooking class because she really wanted to master it."
Several of Orton's students expressed similar appreciation for the cooking sessions.
"One thing that I've loved about Professor Orton's class is that she is really good at bringing us close to the things that we're learning about," said BYU senior Emma Stucki. "Technology can be a barrier sometimes, but it was lovely to share Italian food culture as a class."
"By the time the end of the semester rolled around, I was a little worn out with all my Zoom classes," added Ethan Bentley, another student in Orton's class. "I valued Professor Orton's unique approach."
Even with the inevitable snafus—one student accidentally doubled the butter in the profiteroles and had to start over; another struggled to stiffen egg whites for tiramisu without an electric beater—uniting for a new experience was rewarding.
"In the time of YouTube, where the students could go online and learn how to cook all these things individually, they didn't want to. They wanted to cook together," said Orton. "That made me really happy."
Professor Orton's gnocchi recipe
Start to finish: one hour
Makes about 90 gnocchi
Special equipment
Potato ricer
Ingredients
4 medium-sized Yukon Gold potatoes (2 lbs.)
About 1 ½ cups of flour, plus a little more for dusting the counter
1 egg
½ teaspoon salt, plus a little more for salting water
Directions
Heat oven to 350F and lightly butter a cookie sheet.
Microwave the potatoes until they are soft, then wrap them in foil and let them sit for about five minutes. Fill a large pot with about 4 quarts of water, add a little salt and then heat to a rolling boil.
Spread ½ cup of flour on a clean counter. Peel the potatoes and squeeze them through a ricer onto the flour. Gently toss the flour onto the potato and sprinkle with the 1/2 teaspoon of salt. Gently draw the potato mixture into a mound and crack the egg into the top of it. With a fork, gently mix the egg into the potato and flour. With your hands, gently work the mixture to a soft smooth dough. If the dough is sticky, sprinkle with flour as needed (up to 1/4 cup).
Break the dough into four pieces and roll each piece into a rope about 3/4 inch in diameter. Cut off pieces of the rope in about 3/4 inch-long chunks (pecan sized). Roll each chunk into a smooth ball to make one gnocco.
To shape each gnocco, place the gnocco ball on the flat of the tines of a fork. Let the tines make an indentation in the ball as you slide it down the fork with your thumb and let the gnocco drop on the counter. The gnocco should show lines from the fork across its front and an indentation in the back. Repeat with all the remaining dough.
With the water at a rolling boil, drop the gnocchi into the pot, 15 to 20 at a time. When the gnocchi rise to the surface (usually in about one minute), remove them with a strainer, place them on the buttered cookie sheet and bake in the oven for 3 to 5 minutes.
Serve with pesto, butter that has been melted with fresh rosemary or a red sauce.