Winning apps connect friends, families and help kids
Top 2014 BYU Mobile App Competition Finalists
A group of tech-savvy BYU students are trying to turn the nature of smartphone games on its head: Instead of playing in isolation, they've created a game that facilitates face-to-face interaction.
The latest winners of the Marriott School's Mobile App Competition created a gaming app that recreates the experience of playing card games with friends, using technology to replace the cards.
With Card Table, friends use their iPhones to literally hold a hand of cards, while an iPad serves as the central card table. The iPhones (or iPods) communicate directly with the iPad, allowing students to magically swipe cards straight from their hand to the "table."
The app can do everything you can do with a deck of cards—shuffle, flip cards, deal—everything except bluff.
"We wanted to make a cool experience where you are actually together with other human beings instead of communicating with a server," said winning app developer Porter Hoskins. "We love the app because it lets us use our favorite devices to play our favorite games with our favorite people."
Hoskins and his team, fellow information systems majors Todd Wilson and Brendan Kingsford, won $2,500 for their wizardry and engineering at the event hosted this winter by the Rollins Center for Entrepreneurship and Technology. All three students are headed to Apple for jobs or internships this summer.
Other winning finalists created apps geared toward families and children.
Runners up (and $2,000 winners) included an app that allows families to follow the construction of their new home, a math game for elementary school kids, and an animated children's storybook calledSadie O'Green and Her Wuz-Buz Machine.
Home Story gives homebuyers an easy way to not just view their home's progress, but to share photos and other content through social media. Meanwhile, Math Bot is a clever, easy to play game that tests a child's ability to solve simple math questions.
In only its fifth year, the Mobile App Competition is already one of the oldest of its kind and is a chance for BYU students to showcase their app developer skills.
"Past apps have received millions of downloads and risen to first place in their category in the app store, which is no small achievement," said Jeff Brown, assistant director of the Rollins Center. "This competition highlights BYU and its students as leaders in this popular space."
The annual competition is open to undergraduate or graduate students at BYU and BYU-Idaho and winners are picked by judges who weigh the user experience, interface design, quality of the business opportunity and usefulness of the app.
Finalists this year represented programs across campus, including information systems, applied physics and computer science.
"There's great demand for mobile dev skills, and there's a strong need to address mobile in a company's strategy, whether you're a startup or an established big company," said information systems professor Steve Liddle, academic director of the Rollins Center.
All the winning entries are available on various app sites, including iTunes, Google Play and the Windows App store. Check the links below to learn more about the finalists.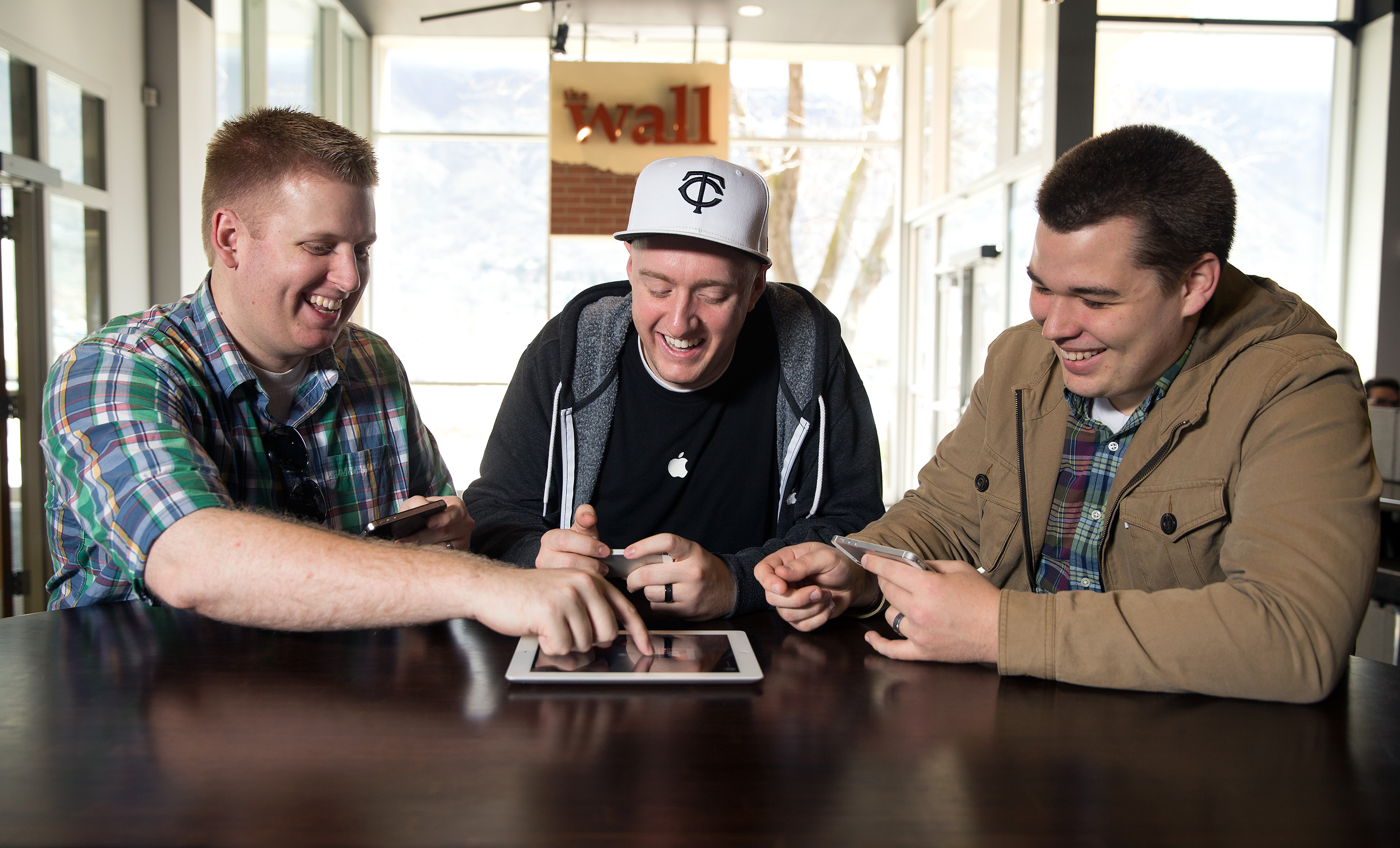 Cards4.jpg
Jaren S. Wilkey/BYU Photo
Cards3.jpg
Jaren S. Wilkey/BYU Photo
Cards5.jpg
Jaren S. Wilkey/BYU Photo