BYU professor documents life and influence of reclusive composer
BYU music professor Jeremy Grimshaw authored a biography of La Monte Young, the father of minimalist music.
Young was born in Bern, Idaho, and spent part of his childhood in American Fork, Utah.
La Monte Young is one of the most influential composers in America, though many have not heard of him.
What kind of musician waits 14 years to release a recording, makes only 500 copies of the album and then promptly sells each copy for more than $100? That would be La Monte Young.
Perhaps you've never heard of him, but you've definitely heard of the artists he's influenced: Coldplay, U2, David Bowie, The Talking Heads and The Velvet Underground are a few. Artists Yoko Ono and Andy Warhol and composer Philip Glass also come to mind.
Yet Young, an enigmatic composer raised Mormon in the rural towns of Bern, Idaho, and American Fork, Utah, has remained virtually invisible to most of the world his entire life – even though he is considered the father of an entire genre of music.
"La Monte Young is the most famous and influential composer that you've maybe never heard of," says BYU assistant music professor Jeremy Grimshaw. "Because he's not interested in fame, he has never become a household name. And yet his musical influence is heard by every household in America."
Grimshaw would know, having just finished 10 years of interviews, research and writing for his newly Oxford-published biography on Young, "Draw a Straight Line and Follow It." The book, available this month, is the first to chronicle the life and works of the reclusive musician.
Young is the patriarch of minimalist music, a style of music featuring sustained harmonies, a pensive mood, and long, drawn out individual tones. To get an idea of how minimalist music sounds, click here to listen to part of Young's composition The Well-Tuned Piano.
Young has been called "The daddy of us all" by fellow minimalist and rock producer Brian Eno. Eno's connection to Young has gone on to influence the many rock records he has produced, including U2's most popular albums (The Joshua Tree, Achtung Baby) as well as Coldplay's two most recent albums (Viva la Vida or Death and All His Friends, Mylo Xyloto).
Grimshaw says Young's influence goes well beyond those A-list groups.
"It's everywhere, even if you don't know it; you hear minimalism or music influenced by it every day – in TV commercials, in film scores, in documentary scores," Grimshaw says. "Not only has Young's aesthetic become one of the most influential forces in the arts in America, but it's tied to a rural background that is very familiar to many people in the west."
Grimshaw's 264-page book traces Young's winding and strange life journey, which starts in a tiny log cabin in Bern, Idaho, where he was born to an LDS sheepherder in 1935. His family later moved to American Fork, where the family managed a celery farm on the shore of Utah Lake.
It was there Young made a memory while working with his father that inspired future compositions, including the one after which Grimshaw's book is titled.
"One day in the middle of winter, freezing cold, wind blowing up off of Utah Lake, we went down to the shore of the lake and worked all day digging post holes, putting poles in the ground, lining them up perfectly and then stringing barbed wire across them," Young recalls in the book. "And it was just, like, unbelievably cold, and unbelievably hard work and my Father never stopped. And, also, he was very, very concerned about making the fence straight and lining it up."
During his four years in Utah County, Young learned under the tutelage of local music legend K. J. Bird at American Fork Junior High. He later lived in Los Angeles, where he went to high school and college; Berkeley, where he attended graduate school; and ultimately New York City, where in his 20s he became a central figure in the minimalist music movement.
Young also undertook intensive study of North Indian classical music, and studied with guru Pandit Pran Nath for 25 years.
"One can hardly imagine a sharper cultural contrast than that between Young's early years and his later experiences," Grimshaw says. "I've been to the tiny cabin in the middle of nowhere where Young was born. Then I think of him hanging out in Yoko Ono's loft in 1960 in downtown New York. I wonder to myself, 'How did that guy get from here to there?' That to me is the amazing story."
Grimshaw also writes about how being raised in the LDS Church infused spirituality and a quest for greater meaning in his music, even though Young fell away from the Church early in his career.
Young, 76, lives in Tribeca, New York City, but makes only occasional public appearances. "Draw a Straight Line and Follow It" is published by Oxford University Press.
1112-19 109.jpg
Mark A. Philbrick/BYU Photo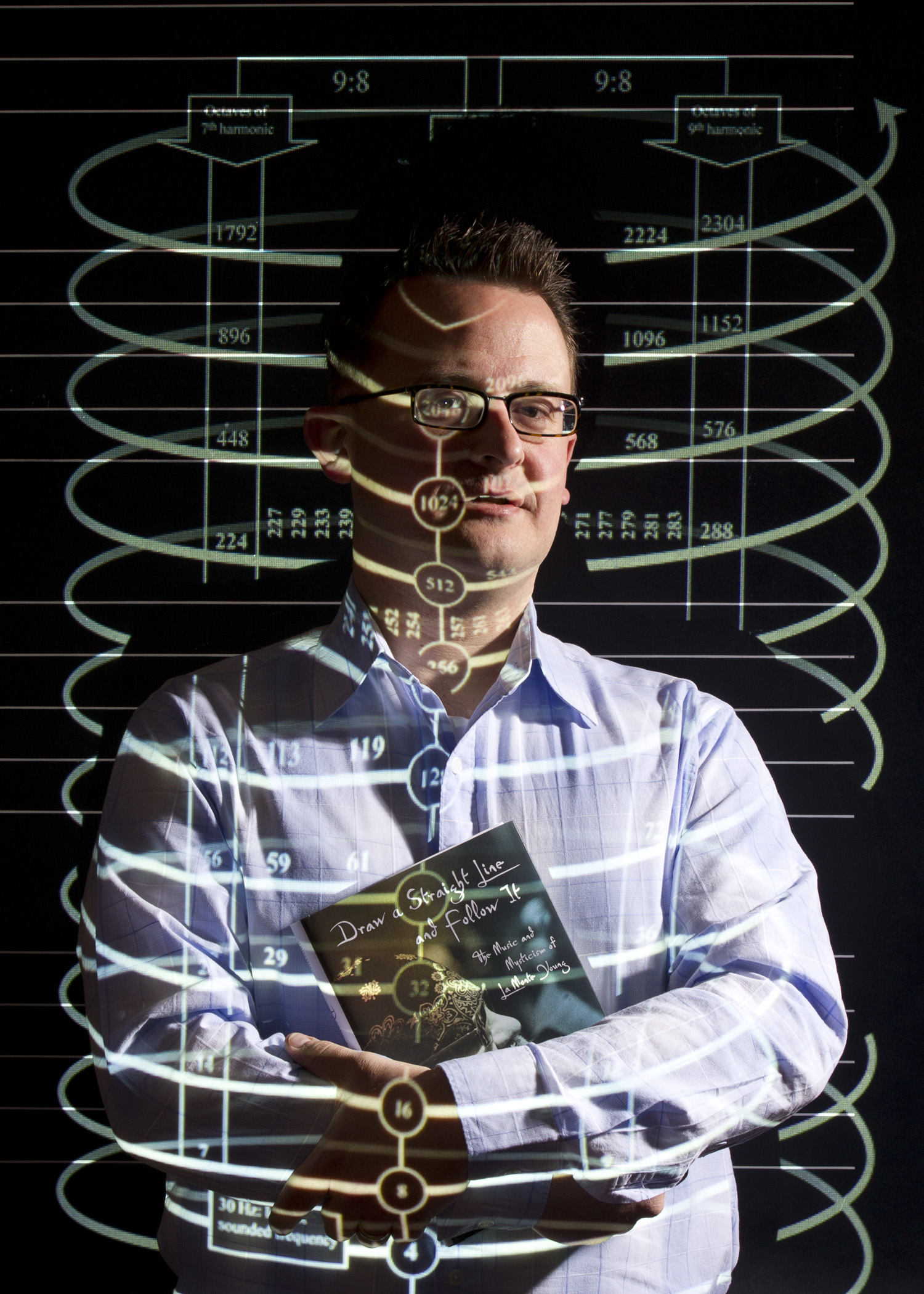 1112-19 043.jpg
Mark A. Philbrick/BYU Photo
1112-19 074.jpg
Mark A. Philbrick/BYU Photo