Brigham Young University's Department of Theatre and Media Arts will present "'The Cleverest Thief' and selections from 'Gone Missing'" in the Margetts Theatre Tuesday through Saturday, including matinee performances on Saturdays. Performances run Wednesday, Feb. 27 through Saturday, March 9.
Tickets are $14, with $2 discounts available to BYU alumni and senior citizens and $6 discounts for students or individuals with a BYU ID. For tickets, visit the Fine Arts Ticket Office, (801) 422-4322 or byuarts.com/tickets. There will be no performances Sundays or Mondays. The performance on Thursday, March 7, will offer American Sign Language interpretation.
The production will feature two short pieces of theatre directed by Lindsay Livingston. Both plays have similar themes and use a distinct and contemporary storytelling approach known as devising. Devised theatre occurs when the script originates not from a writer, but through collaboration by a group of people, usually the performers.
"Gone Missing" is a 2002 play devised by the Brooklyn-based theatre company The Civilians. The piece was devised through interviews with real New Yorkers by asking one simple question: "What is something you've lost?"
"The Cleverest Thief" is another play devised from interviews focused on capturing the uniqueness and universality of loss, but this time the focus will be on Provo instead of New York.
"Our play, 'The Cleverest Thief,' is devised from the interviews that we conducted over a two-month period in 2012 and likewise investigates how the things we lose and those that we find impact how we understand ourselves, our communities and our place in the world," Livingston said.
"We went out into our community and asked the same question; we received answers that were both similar and quite different," she said. "We chose to tell the stories of both Provoans and New Yorkers through storytelling and various media to emphasize that how we remember our stories of loss actually shapes who we are."
The production is also featured in 4thWall, a dramaturgy project run by the Theatre and Media Arts Department. The project works to break down the supposed wall separating the audience from the actors through insights from the rehearsal room, interesting historical information, interviews with the production team and more. For more information about 4thWall, visit 4thwalldramaturgy.byu.edu.
The cast features Annalee Hickman, Ali Kinkade, Hannah Kroff, Alizabeth Leake, James Luciano, James Lyon, Sarah Porter, Amber Richardson and Adam White.
The design and technical crew includes Hannah Richardson, production stage manager; Ariel Mitchell, dramaturg; Noah Kershisnik, production designer; Michael Kraczek, lighting designer; Hannah Kroff, prop designer; Kristy Hunter, sound designer; Josh Fawcett, master electrician; and Mark Ohran, projection system designer.
For more information, contact Ken Crossley at (801) 422-9348 or ken_crossley@byu.edu.
Writer: Preston Wittwer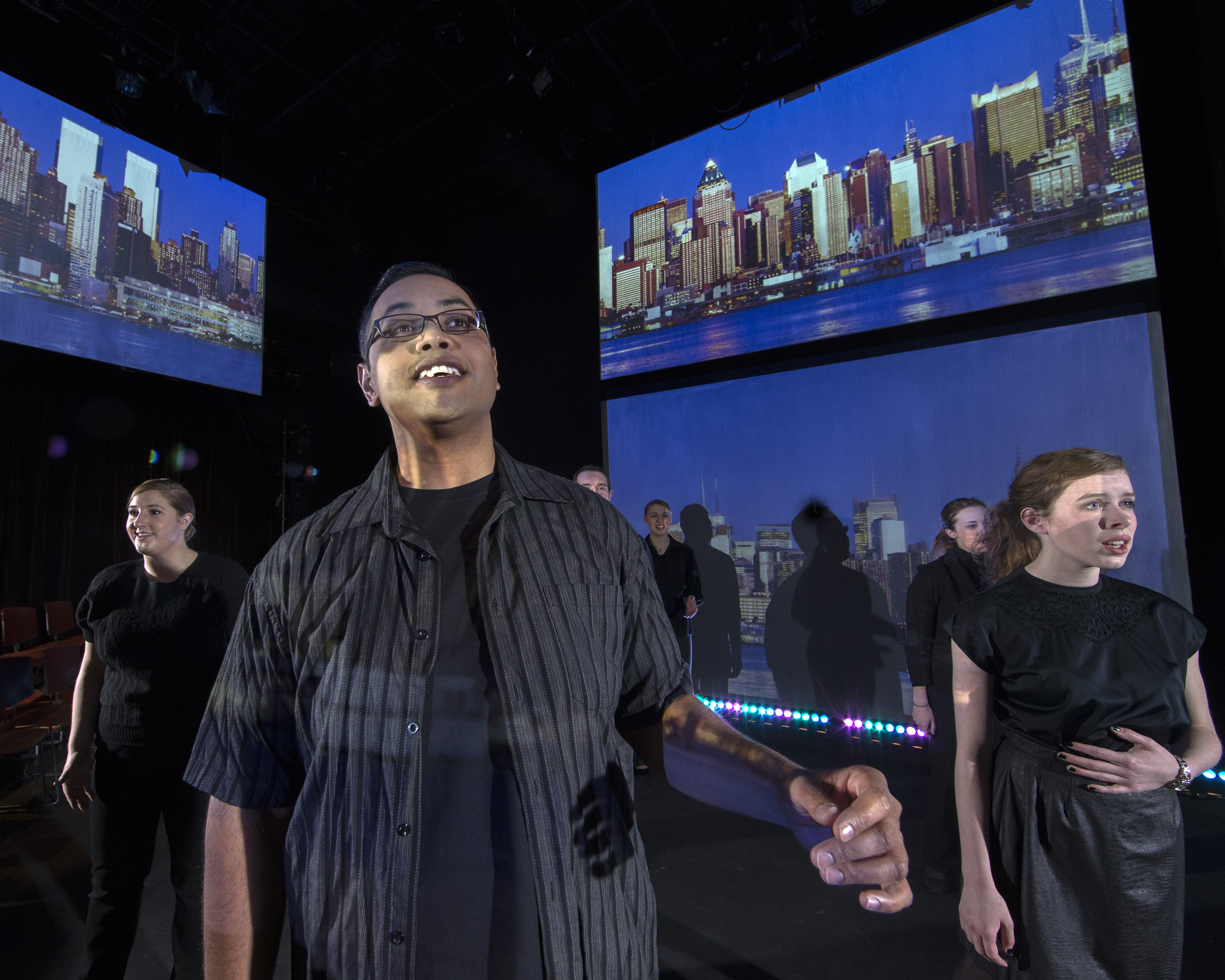 1302-12 027.jpg
Mark A. Philbrick/BYU Photo
1302-12 074.jpg
Mark A. Philbrick/BYU Photo
1302-12 126.jpg
Mark A. Philbrick/BYU Photo
1302-12 150.jpg
Mark A. Philbrick/BYU Photo
1302-12 189.jpg
Mark A. Philbrick/BYU Photo
1302-12 293.jpg
Mark A. Philbrick/BYU Photo