A team of researchers at Brigham Young University has developed a method to diagnose eating disorders using hair samples from patients.
The team achieved 80 percent accuracy with five hairs from each participant. Larger studies will be conducted later to develop an approach that can be used clinically. The development of a physiological test for anorexia and bulimia nervosa, which afflict 1 to 5 percent of young women in the United States, is important because of the inability of many who suffer from the conditions to recognize their illnesses and be candid about their feelings and eating practices.
"Currently, eating disorder diagnoses are based on some objective measures such as body mass index, but also on subjective evaluations and surveys that require accurate input from the patient," said Kent Hatch, assistant professor of integrative biology and lead author on the paper published Monday in the new issue of Rapid Communications in Mass Spectrometry. "This would give a clinician an objective measure to use to diagnose an eating disorder, and we hope it will eventually allow a sound diagnosis at an earlier stage."
Hatch and his team used a mass spectrometer to analyze the ratios of different types of nitrogen and carbon in each hair sample from patients at a clinic for women with eating disorders. By comparing the data with similar results from a control group of healthy volunteers, the researchers determined molecular factors that indicate the illness. Two undergraduates, Morgan Crawford and Amanda Kunz, ran the analysis of the hair samples and helped write the paper.
"This was a fascinating project, and this type of research hasn't really been done before, even though eating disorders are such a big problem," said Crawford, now in her second year at the University of Utah School of Medicine. "I knew that I wanted to go into medicine before I worked on this project, and I was lucky that the type of research I was doing is very clinically applicable."
Kunz, who has studied animals in other research, enjoyed the opportunity to participate in a project focused on humans.
"This research is more beneficial for medicine in general," she said. "It could be a way for physicians to better monitor their patients and help women to control and overcome the disorders they are suffering from."
Study co-author Steve Thomsen, has published several studies examining the impact of media on women's diet and body image. Accurately evaluating that impact was difficult because doing so relies on self-reports from participants.
"People with eating disorders are often unable or unwilling to discuss their dietary practices," Thomsen said. "But the hair can tell the story. The approach, used in conjunction with other methods, would allow us to be more accurate because women often underreport their unhealthy dietary practices, which means we are probably underestimating some of our findings."
Although the results of the new study are preliminary, the prospect of another diagnostic tool appeals to Paul Harper, a therapist at the Center for Change, the treatment center for individuals with eating disorders that cooperated with the researchers.
"One of the constant behaviors of individuals with eating disorders is secrecy," Harper explained. "The eating disorder is a coping mechanism for them, and they are not going to be forthright about what is going on in their lives. The hair study could aid in creating better treatment for individuals with eating disorders earlier in the process."
Other co-authors on the paper were BYU faculty members Dennis Eggett, Stephen Nelson and Beverly Roeder.
0501-15 83-h.jpg
Mark A. Philbrick/BYU Photo
0501-15 59-h.jpg
Mark A. Philbrick/BYU Photo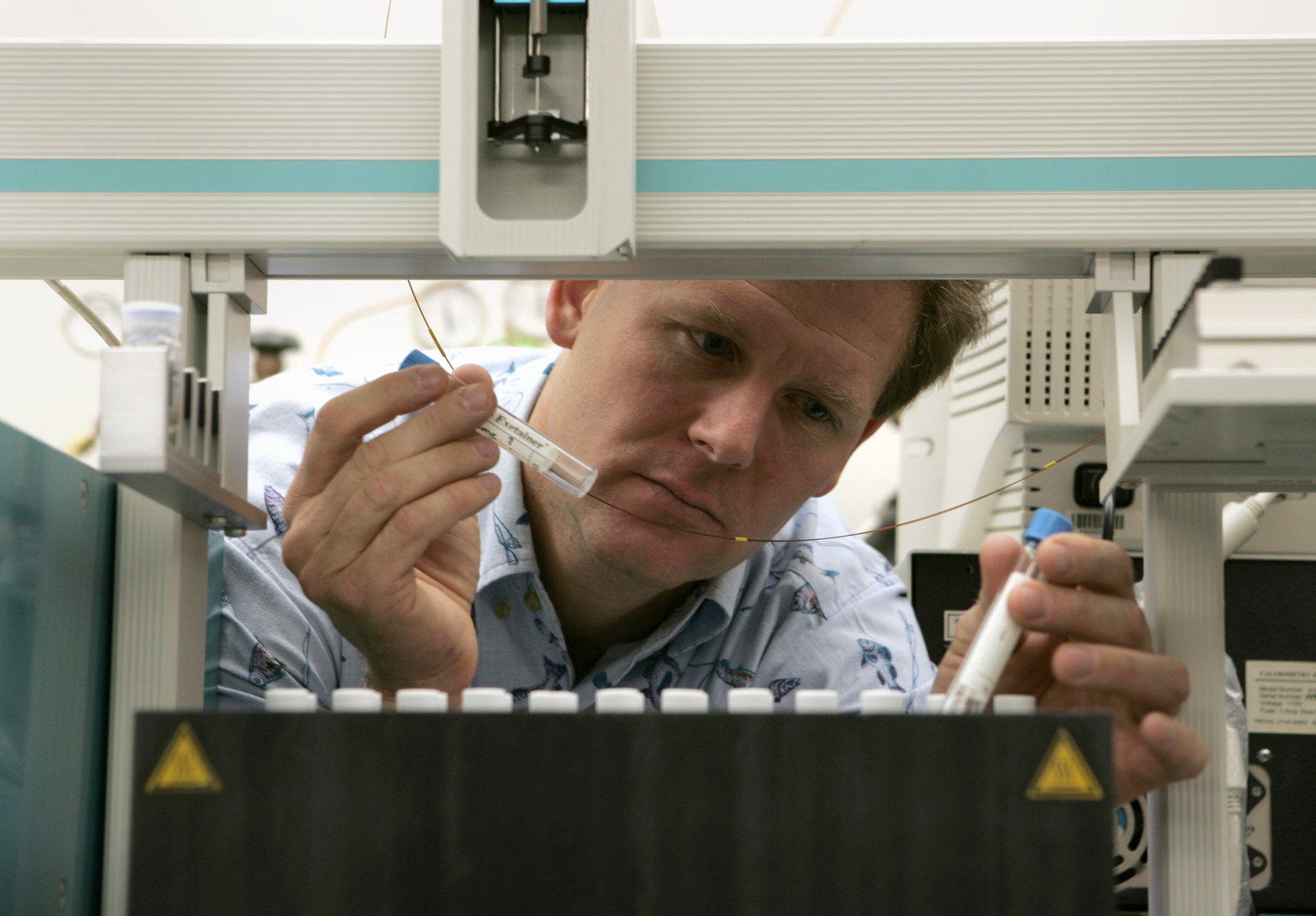 0501-15 68-h.jpg
Mark A. Philbrick/BYU Photo