Discovery may lead to better treatments of heart disease, cancer, blindness
A team of Brigham Young University biochemists has answered a 12-year-old question about the way your body's cells do their jobs. The research relates to heart disease, gastro-intestinal problems, depression, certain forms of cancer, drug addictions and certain forms of blindness.
Led by professor Barry Willardson, the investigators determined the essential role that a protein with the inauspicious name of phosducin-like protein (abbreviated as PhLP and verbalized as "flip") plays in the process by which your body's cells regulate themselves in response to external stimulation.
"PhLP was discovered 12 years ago and was known to be involved in G protein signaling, but no one knew exactly how," said Willardson, a professor of biochemistry, whose research was funded by grants from the National Institutes of Health and the National Science Foundation.
In your body, receptors on cell membranes function like doorways, interfacing with external stimulants like hormones, neurotransmitters and even photons of light. These stimulants kick the receptor into gear, mobilizing G proteins that shuttle information from the receptor to other parts of the cell. The BYU researchers determined that PhLP was needed for the cell to make the G proteins that are so essential in this process.
"Without functional G proteins, you would be unable to regulate your heart rate or blood pressure," said Willardson. "Your brain wouldn't function properly and neither would your immune system. You couldn't smell or see."
A further testament to the importance of the BYU discovery is that about half of all pharmaceutical drugs target G protein signaling, usually at the receptor level, says Willardson. This is because nearly all of a person's major bodily functions involve G protein signaling.
"Finding ways to control how much G protein is made in the cell by PhLP could help treat conditions in which too much G protein signaling is occurring, conditions such as heart failure, cancer growth and drug addiction," he says.
On the other hand, boosting G protein signaling by increasing the amount of G protein being made could also be beneficial in treating diseases resulting from too little signaling like clinical depression, hypothyroidism and tolerance to medications such as morphine.
The BYU team's work is important to other researchers like Patrick J. Casey, the James B. Duke Professor of Pharmacology and Cancer Biology at Duke University Medical Center, who says that the discovery is an important step in providing a better understanding of how cells work in general.
"This is an incredibly nice study," said Casey. "The question of just how the G protein beta-gamma dimer is formed in cells has been studied by many, including ourselves, but despite all these efforts the molecular basis for the process has remained elusive until now. This demonstration that PhLP is the critical element in the process not only opens a new avenue of investigation in the field of G protein signaling, but also adds a new element to our understanding of how protein complexes form in cells."
A study reporting the work done in Willardson's lab was published June 1 in the "Journal of the European Molecular Biology Organization," a leading biomedical journal. Joining Willardson on the study are BYU graduate students Georgi L. Lukov and Ting Hu, as well as Joseph N. McLaughlin and Heidi E. Hamm of the Department of Pharmacology at the Vanderbilt University Medical Center.
0505-29 42-l.jpg
Mark A. Philbrick/BYU Photo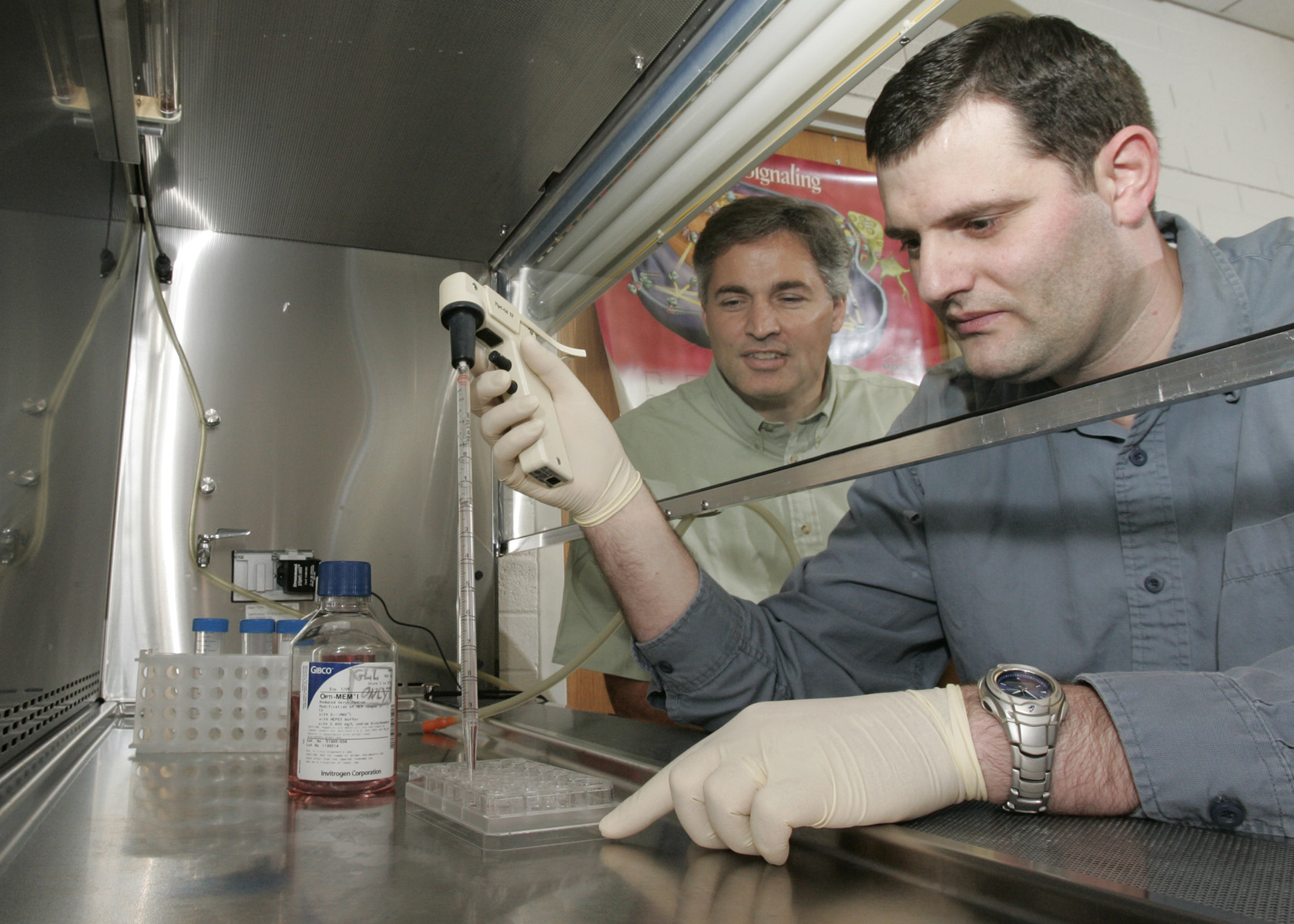 0505-29 37-L.jpg
Mark A. Philbrick/BYU Photo
0505-29 16-L.jpg
Mark A. Philbrick/BYU Photo