"James Tissot: The Life of Christ" on display June 18-Jan. 8
Religious faith supplies believers with a new way of seeing, thinking and feeling that can bring an added sense of exploration to encounters with sacred music, art and texts.
From Friday, June 18, 2010, through Saturday, January 8, 2011, the Brigham Young University Museum of Art will present a religious exhibition that will allow viewers to explore their own faith in Jesus Christ. "James Tissot: The Life of Christ," features 124 watercolors by 19th-century French artist James Tissot. A committed Christian believer, Tissot devoted ten years of his adult life to the creation of these works of art, which depict events surrounding the life and ministry of Jesus Christ.
"James Tissot: The Life of Christ" was made possible, in part, with a generous award from the National Endowment for the Arts. It will be on view in the Conway A. Ashton & Carl E. Jackman Gallery on the museum's lower level during regular museum hours. Admission is free.
Tissot's sketchbook and copies of his illustrated commentary on the four gospels, titled "The Life of Our Lord Jesus Christ," are also featured in the exhibition. The Brooklyn Museum organized this traveling exhibition from its collection of 350 New Testament illustrations by Tissot, which were acquired by public subscription in 1901.
Born in France, Tissot (1836-1902) had a successful artistic career in Paris before going to London in the 1870s, where he established himself as a renowned painter of London society. After experiencing a religious vision in the Church of St. Sulpice in Paris in the 1880s, he embarked on an ambitious project to illustrate the New Testament.
"Believers consider things differently," said Rita Wright, museum educator at the BYU Museum of Art. "Many visitors to this exhibition will be believers in similar ways that Tissot was. Their faith in Jesus Christ will inform and shape their viewing experience in the same way it informed and shaped Tissot's creation of these works."
The creation of these paintings was a zealous endeavor for Tissot. His careful attention to historical accuracy is often noted by critics and viewers. Those who have visited the Holy Land might even recognize some of the scenes and settings he painted. While this was a growing trend among 19th-century artists, Tissot was even more concerned with the juxtaposition of the mystical and realistic aspects of his work than others of his time.
"Tissot's historical accuracy was an aid to a much more profound goal to reinforce the mystical, spiritual, cosmic meaning in the episodes he was depicting," said Cheryl May, head curator at the BYU Museum of Art. "It really was an act of devotion on his part."
His ardent efforts included two pilgrimages to the Holy Land; numerous detailed sketches of local architecture, clothing and customs; multiple readings of the New Testament; and pages upon pages of New Testament commentary — evidence that Tissot devoted a significant amount of time to pondering the divine nature of Jesus Christ and his own relationship to his Savior.
"I have chosen from amongst the scenes of the public life of Jesus, those which best illustrate not only what He is, but what He was, and what He ought to be to us," Tissot wrote in one of his commentaries. "Especially those which, being more suggestive than others, are a better starting-point for the imagination in its effort to rise to the comprehension of that incomprehensible ideal which is the Christ."
"Every visitor to this exhibition will have different thoughts or impressions as they look at Tissot's paintings, but each will bring their belief in Jesus Christ," Wright said. "We hope that this exhibition will cause, as Tissot put it, 'each and all [to] withdraw to ponder, as the Virgin did, these things in our hearts.'"
Free docent-led tours of this exhibition can be scheduled with at least one week's notice by calling the Museum Education Department at (801) 422-1140. More information about this exhibition will be available on the Museum of Art website, moa.byu.edu.
LordsPrayer.jpg
Mark A. Philbrick/BYU Photo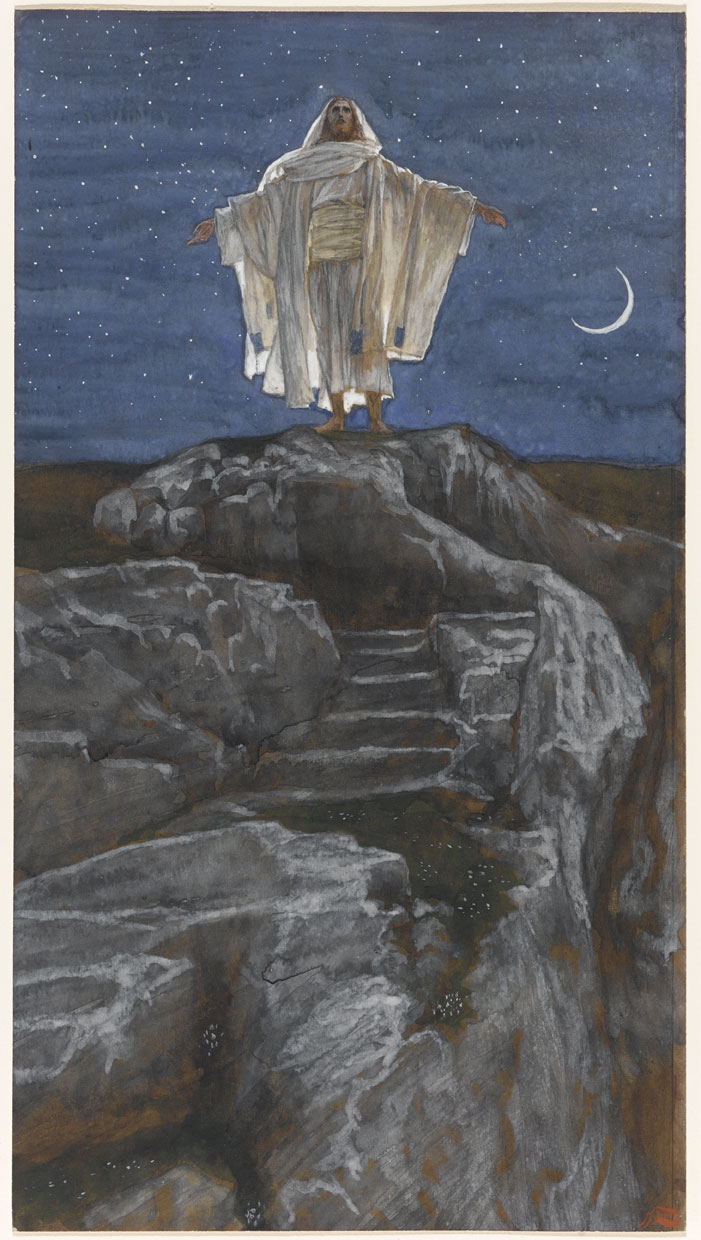 ChristOnMountain.jpg
Mark A. Philbrick/BYU Photo