"Intelligenceand National Security," a leading journal for scholars who study intelligence,has released its February 2008 Special Issue: "Spying in Film and Fiction."
Editor StanA. Taylor, who has two articles in this issue, is an emeritus political scienceprofessor and former director of the David M. Kennedy Center for InternationalStudies at Brigham Young University. Taylor also organized "Spying in Film and Fiction," a conference heldat the David M. Kennedy Center in March 2007 from which the journal was generated.
"Ourintention was to present a scholars and practitioners' view of the U.S. andBritish intelligence communities as portrayed in film and fiction," saidTaylor, who pointed out the conference findings that "there is no relationship betweenaudience enjoyment and historical accuracy."
Alsopublished in the journal is CIA staff historian Nicholas Dujmovic and ShannonMollie Epps, a 2007 BYU political science graduate.
The journal claims to break "the silencesurrounding the secret world of intelligence," allowing readers to "gain insightinto the contemporary functions of intelligence and its influence of foreignpolicy and national security," as well as offering articles on the "historicalbackground of intelligence" that "present the complete picture of its originsand development."
Those interested may purchase this special issue online at www.tandf.co.uk/journals/spissue/fint-si.asp. For more information, contact stan_taylor@byu.edu.
Writer: Lee Simons
stanley_a_taylor.jpg
The Church of Jesus Christ of Latter-day Saints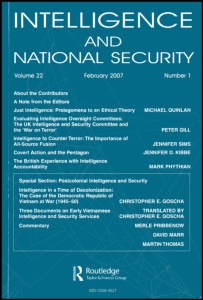 INTcover.jpg
The Church of Jesus Christ of Latter-day Saints