Employees across BYU are going the extra mile during the pandemic
UnsungUploads/2004-32 0225.jpg
Nate Edwards
UnsungUploads/2004-15 0066.jpg
Nate Edwards
UnsungUploads/2004-34 0024.jpg
Nate Edwards
UnsungUploads/1702-10 33.jpg
Tabitha Sumsion
UnsungUploads/2004-37 0002.jpg
Nate Edwards
UnsungUploads/2004-32 0233.jpg
Nate Edwards
UnsungUploads/2004-36 0018.jpg
Nate Edwards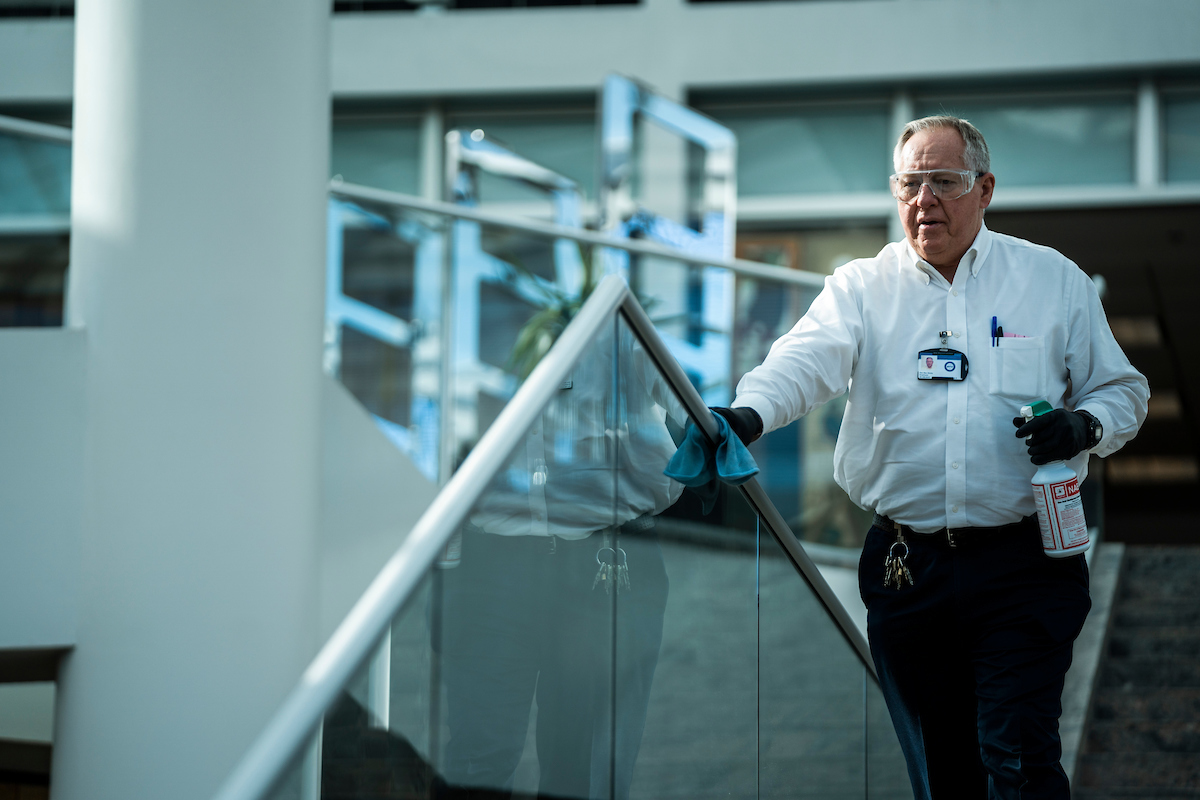 UnsungUploads/2004-15 0052.jpg
Nate Edwards
UnsungUploads/2004-34 0007.jpg
Nate Edwards
UnsungUploads/1811-43 0208.jpg
Nate Edwards
UnsungUploads/2004-32 0139.jpg
Nate Edwards
Like every other institution, Brigham Young University has gone through a variety of changes since the onset of the COVID-19 pandemic. Moving to remote learning was a massive undertaking, and physical distancing has brought with it changes to every part of campus. Because of this, our employees have worked tirelessly to make all the necessary adjustments. With all of the incredible employees we have here, it is no surprise that many have shined during this time of uncertainty and change.
To that end, we invited employees to nominate coworkers who have gone above and beyond over the past six weeks to help our BYU community stay on track in the face of a global pandemic. More than 130 employees across 50 departments were nominated as Unsung Heroes, although we think there are likely thousands who deserve the same title. These women and men have shown incredible levels of commitment, love, and support for their fellow Cougars. We wanted to share the amazing work some of them have done as Unsung Heroes.
Laura Mitchell & Suzanne Ball (pictured above)
Certified Medical Assistants, Student Health Center
"We were unable to get more face shields, so Suzanne and Laura went to several businesses and asked for donations of clear plastic, foam, Velcro, and glue. They were able to make 200 face shields with the equipment they gathered." — Juleah Roberts
Suzanne and Laura kept 50 of the face shields they created for the Student Health Center's employees and donated the rest to local fire departments. Not only did these women help the health center, they also made a difference for the fire department EMT's who were struggling to get their hands on face shields.
Meagan Meyer
Product Manager, Office of IT
"Because of all Meagan does and leads, along with all of those who run and attend classes online of course, BYU has successfully run over 63,000 meetings/classes that resulted in over 23 million minutes of time online when we can't be face to face." — Elaine Lauritzen
Meagan was nominated because of her dedication to making sure everything has run smoothly on Zoom during the transition to remote classes. Meagan is taking care of everything behind the scenes while also managing home-schooling for her kids. She is never late to a meeting and always finds time to answer questions and speak authoritatively about what can and cannot be done.
Spencer Fields
Residence Halls Assistant Manager, Housing
"As one of the managers for on-campus housing, Spencer has been working long and hard, often into the wee hours of the morning, making sure that residents, student employees, and full-time employees are being taken care of and their needs are being met during this pandemic." — Heather Patterson
Spencer was nominated for his incredible level of commitment and sacrifice during this pandemic. With changes happening daily, Spencer never loses his cool and works hard to find answers and solutions to many questions and problems that have suddenly popped up.
Dee Shirts
Library Area Supervisor, Physical Facilities
"Dee Shirts has been tireless in his work to keep the library clean. He has a positive attitude that it reflected by his hard-working team." — Suzanne Julian
Thanks to Dee's dedication to keeping the library clean and sanitized, it has been able to stay open during this pandemic for the benefit of students. Dee and his team are doing an incredible job sanitizing and keeping the virus from infecting students and employees.
Mindy Johnson
Assistant Manager of the MTC, Dining Services
"The one area that really makes Mindy an unsung hero is how she has managed displaced and uprooted staff in the middle of the chaos of a world-wide pandemic." — Chris Nukaya
Mindy has been nominated because of her incredible work ethic and smooth transition from working at the MTC to the Cannon Commons. Mindy immediately took her place as an assistant manager when she was moved to the Cannon Commons and provided care and emotional support for all the staff among the chaos. She has helped move an entire team to a new location and adjust to a new schedule.
Scott Lee
Meat Shop Manager
"In the confusion and panic buying that we were experiencing, I had not thought to ask Scott for additional meat, aside from our grill needs. Yet, without being asked, there was Scott, taking care of us and our customers." — David Neumann, manager of Creamery on Ninth East.
Scott's hard work and willingness to work double duty to handle the changes in demand of products from the meat shop has been critical. Scott's meat shop is hidden deep in the heart of the University Services Building, so few people can see him at work. Despite this, Scott has been working extremely hard to keep up with the needs of students and employees during this pandemic.
Cassy Budd
Professor, School of Accountancy
"Cassy has done everything with a smile and can-do attitude, helping both students and faculty to maintain a positive attitude through challenging changes to our normal class routines. She is truly a Zoom hero." — Monte Swain
Cassy has taken the lead to work through every possible technical aspect of delivering a complete learning experience using Zoom and Canvas for the accounting program. Her determined professionalism and commitment to the students and faculty has made a huge difference during the transition to online instruction.
Jared Kilgrow
Chef de Cuisine, Cannon Center
"Jared led his culinary team in the change and helped them understand the need for adaptability and how to manage it. He was full of innovation and ingenuity as we were faced with new challenges every day, even every hour." — Chris Nukaya
Jared was nominated for his incredible service during the transition the Cannon Commons underwent because of the pandemic. The Cannon Center had to transition quickly to accommodate for social distancing and even though Jared had his own family to worry about, he never complained or protested. He worked extra hours to make the necessary adjustments and helped safely serve hundreds of students. Jared and his team were able to create some stability for students during uncertain times.
Wendy Jones
Nursing Director, Student Health Center
"Wendy not only takes all the phone calls for screening; she is seldom found sitting at her desk during her work-day. She is found in our Urgent Care helping the clinicians, MA's, and Receptionists." — Rebecca Homberger.
Wendy has been an anchor and hard worker during this difficult time, working long days to ensure the comfort of her patients (and employees) and striving to help as many people as possible. Wendy has been taking all the phone calls for screening for the COVID-19 virus and is always willing to help other MA's and specialty doctors in the office.
David Armond
Senior Law Librarian, Head of Infrastructure & Technology
"David's contributions cover many areas, he is always in the background helping others, and in the case of students, they usually have no idea how much time, thought, and energy he is investing in trying to minimize any negative impact on their ability to study and learn." — Gayla Sorenson
David was nominated multiple times for his efforts to minimize the impacts of COVID-19 on students, faculty, and administration at the Law School. He has spent countless hours making plans for the setup of remote instruction and has managed the implementation of these plans. David has invested much of his time to help reduce the negative impacts of the pandemic on the students and has focused much of his efforts on those students who need serious needs.
Lindsey Blau,
Academic Advisor, FHSS Advisement
"Lindsey is new to our team (she just started at the end of Fall semester), and her commitment to her students and the success of our office during all the COVID-19 disruptions has been amazing." — Doug Porter
Lindsey went above and beyond for the graduating seniors in the departments she advises. She has been incredibly proactive at checking on her students and finding resources to help them navigate the job market during the upheaval. Lindsey's commitment to her students during the COVID-19 pandemic has been incredible.
Chad Beck
University Police
"Chad has worked tirelessly, through many evenings and on the weekends, to facilitate the many changes recommended by the University Policy Group and Sunday access for ecclesiastical leaders." — Chris Autry
Chad has been tasked to make changes and communicate details for electronic access for every building on campus during COVID-19. He has kept a positive and helpful attitude the entire time, even when calls for assistance interrupt projects he is already working on. Chad is working extra hard to fulfill the needs of each building's specific accessibility needs.
Branden Wilson
Managing Director, Risk Management & Safety
"Branden works in a very unpretentious manner, going about his day-to-day work, often putting in 16-hour days, and does so with a smile and demeanor that demonstrates his utmost confidence in his staff." — Craig Haderlie.
Branden has been nominated for working tirelessly to obtain the most relevant information from those he supervises and condense that information into useful information bites. Branden works upwards of 16-hour days to ensure the safety and well-being of the campus community.
Bart Stoddard
Manager, Campus Accommodations - Housing
"Bart has taken everything in stride. He has remained calm through it all and helped all of us in our office make necessary adjustments." — Sharlyann Smith
Bart has been nominated for his hard work in helping students navigate their housing contracts during this crazy pandemic. This has been an extremely stressful time for everyone, but Bart has been the rock in his office.
Jonathon Wood
Associate Director, Global Management Center
"Jonathon has been working tirelessly with the International Student Office and then one-on-one with international students to help them understand their options and to find solutions that are acceptable to everyone involved." — Brigitte Madrian
Marriott School of Business Dean Brigitte Madrian nominated Jonathon because of his commitment to help international students with unique needs during this time. His job has changed drastically since the onset of the pandemic, but Jonathon has stayed professional and optimistic.
Ashley Dewey
Outside Sales Event Manager, BYU Store
"Ashley stays positive, upbeat, and has been so critical to keeping everything working here at the BYU Store while we work through these unique times." — Roger Dean
Ashley has stepped in to work anywhere in the store when urgent needs arise. Ashely is helping everyone in the store adjust to the new normal, even training in some areas where people lack experience.
Note from the Editor:
In case you were wondering, none of the employees pictured in this story were aware of the honor at the time their photograph was taken. A big thanks to BYU Photo for making time to capture several of these amazing employees at work.
We also want to thank all of you who submitted nominations over the past few weeks. We have reached out to each and every nominee, including those not highlighted in this story, to share a message of gratitude from the administration for their hard work. They are all so deserving of this honor and we are grateful for the many individuals that make BYU such a special place. As part of their recognition, nominees will also receive a small gift from the BYU Store.