12 majors represented in student innovator competition this year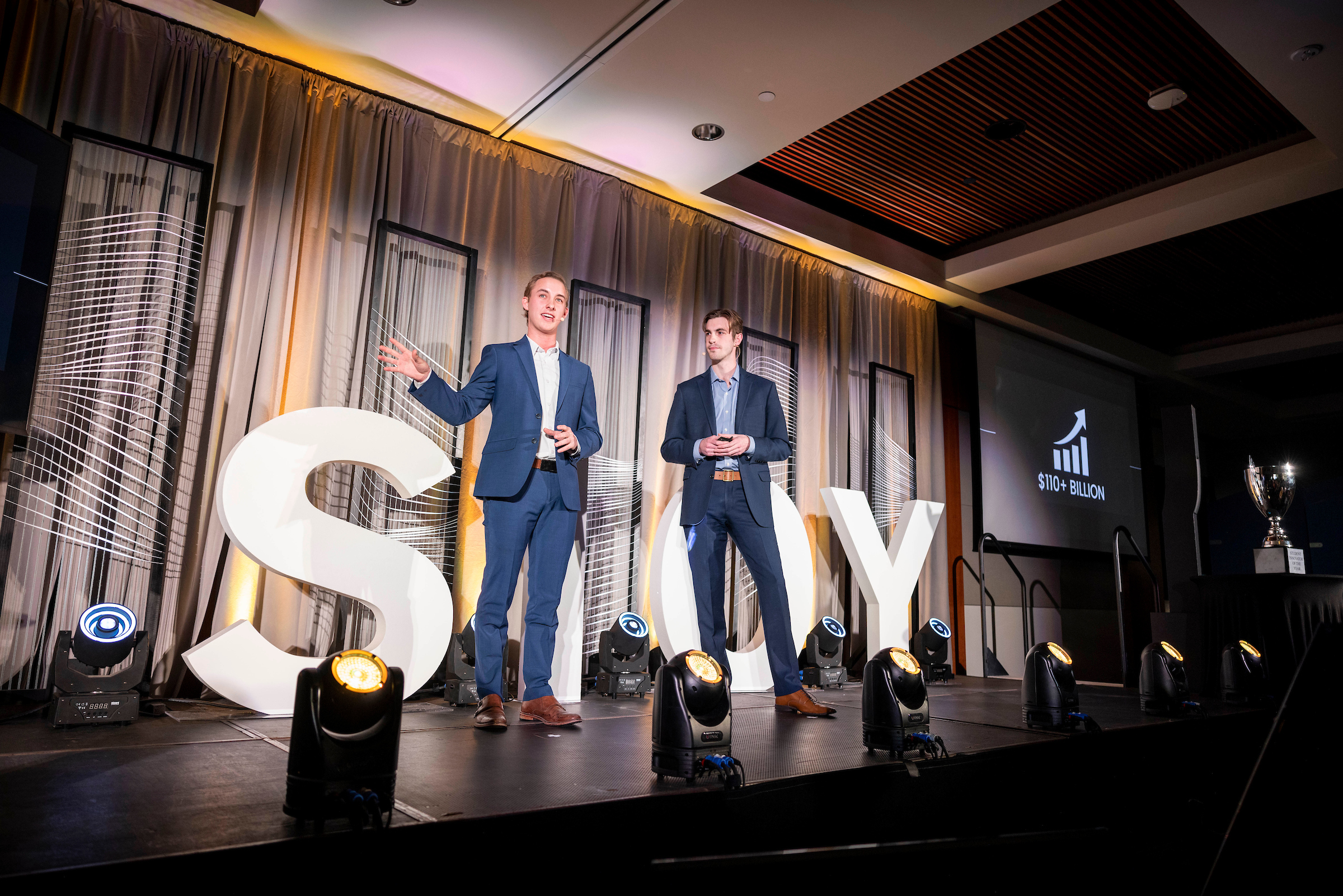 SIOY/2303-01 137.jpg
BYU Photo
SIOY/2303-01 034.jpg
BYU Photo
SIOY/2303-01 082.jpg
BYU Photo
SIOY/2303-01 007.jpg
BYU Photo
SIOY/2303-01 026.jpg
BYU Photo
SIOY Winners
Joey Garrison/BYU Photo
SIOY/2303-01 184.jpg
BYU Photo
SIOY/2303-01 203.jpg
BYU Photo
From products for 'plant parents' to AI-powered learning platforms for teachers, this year's Student Innovator of the Year Competition covered a lot of ground. Held every year at BYU, SIOY showcases student innovators vying for bragging rights and cash to get their ideas off the ground.
Hosted by the College of Engineering, in partnership with the Rollins Center for Entrepreneurship & Technology, SIOY has kickstarted several successful companies over its 12-year history, including Owlet, Khione and Myostorm. This year's version highlighted a breadth of business ideas unmatched by previous years.
"SIOY encourages curiosity and gives ideas teeth by helping students to not only innovate, but also make something actually work — and then communicate the value of what they've created," said Weidman Center Coordinator Heather Conover, who helps run the event. "It has opened up new opportunities for engineers to become entrepreneurs."
Student finalists represented mechanical engineering and chemical engineering, along with 10 other majors across campus, including economics, genetics and English. Students behind the drone-powered window washer competed against a device that could prevent asthma-related deaths, hoping to walk away with a chunk of the $50,000 in prize money.
First place winner "BRO-LESS" earned a check for $12,000 with their innovative solution to chick culling. The team developed a biotechnical solution that would make chick culling completely obsolete, without introducing genetically modified products to the food supply. The team's humane solution is expected to revolutionize the agriculture industry and reduce the number of male chicks culled annually.
Taking second place and winning $10,000 was "Mindsmith," the team behind an AI-powered learning platform. Their content engine uses artificial intelligence models combined with proprietary algorithms to convert source documents into interactive learning. With over 1,200 users and interest from several Fortune 500 companies already, Mindsmith was also named a finalist this semester in the Utah Entrepreneur Challenge hosted by the Lassonde Entrepreneur Institute.
Finally, the team "Aerofold Spacer" won third place and the "crowd favorite" award for their collapsible asthma spacer made of flexible silicone material. The team also solved the problem of static charge in silicone materials that could lead to medication sticking to the spacer. Tests of their prototype showed no statistically significant difference in medicine delivery when compared to a current FDA-approved device. This product could go a long way in eliminating thousands of preventable, asthma-related deaths each year.
"The competition showcased the innovative solutions and creative ideas of the next generation of entrepreneurs and leaders here at BYU," said Michael Jensen, dean of the College of Engineering. "SIOY continues to be an excellent platform for students to showcase their ideas, network with peers and industry leaders, and gain valuable experience in innovation and entrepreneurship."
Other 2023 SIOY finalists included:
Plant Au Pair: A comprehensive suite of hardware and software solutions to promote healthier living for both plants and their owners. Their signature product is a device that helps gauge when and how much a plant needs to be watered.
Cinnamon: The brains behind a tethered drone to replace human workers in commercial window washing.
Pronto Work: A digital marketplace that connects understaffed restaurants with flexible gig workers for single day shifts.
TradeVIEW by Bespoke: This team created an IoT device that can live-stream video without requiring a construction industry apprentice to hold the device (hands-free).
See the video below to watch the entire 2023 Student Innovator of the Year Competition: