Students create new labels, packaging to reverse consumption trends
Over the years, dairy producers have really milked the creativity well to advertise their product. Remember when celebrities like Britney Spears, David Beckham and Jennifer Anniston sported milk mustaches to advertise the product?
Unfortunately for the dairy milk industry, all those pretty faces haven't turned the tables. Since 1970, there's been a 52% decline in the sale of fluid milk in the United States, with consumption dropping off most steeply over the last decade.
Looking to buck that trend, Dairy West — a consortium of dairy farmers and dairy companies in Idaho and Utah — have turned to students at BYU for some fresh ideas. A group of 25 food science, industrial design and graphic design students are helping address the decline by creating more appealing labels and packaging for cow milk.
The students designed 21 unique sets for milk jugs and milk cartons and then tested them out with potential consumers, first with a 100-person local sensory panel, followed by a national survey. All the designs popped, but three designs were the cream of the crop:
Milk/Screenshot 2023-03-08 at 10.44.01 AM.png
Bryan Howell
Milk/Screenshot 2023-03-08 at 10.43.52 AM.png
Bryan Howell
Milk/Screenshot 2023-03-08 at 10.43.28 AM.png
Bryan Howell
Milk/Screenshot 2023-03-08 at 10.43.37 AM.png
Bryan Howell
Milk/Screenshot 2023-03-08 at 10.44.38 AM.png
Bryan Howell
Milk/Screenshot 2023-03-08 at 10.44.23 AM.png
Bryan Howell
"Testing our packages among a 100-person sensory panel and a 600+ Qualtrics survey sample lent a critical real-world feel to this project," said food science major Kanae Lee. "It was fun to realize the significance of consumer testing and feedback in creating a package that appeals to consumers."
As a second part of the research project, the students also designed new unique packaging forms for the milk. They created their own brand, reimagined how people consume milk and created four new concepts:
A paper carton containing edible seaweed-based plastic pods of milk
A rectangular reusable glass container to be used at a milk-refill stations in supermarkets
A compostable molded paper pulp container lined with seaweed-based plastic
Interlocking cartons that can stack on top of each other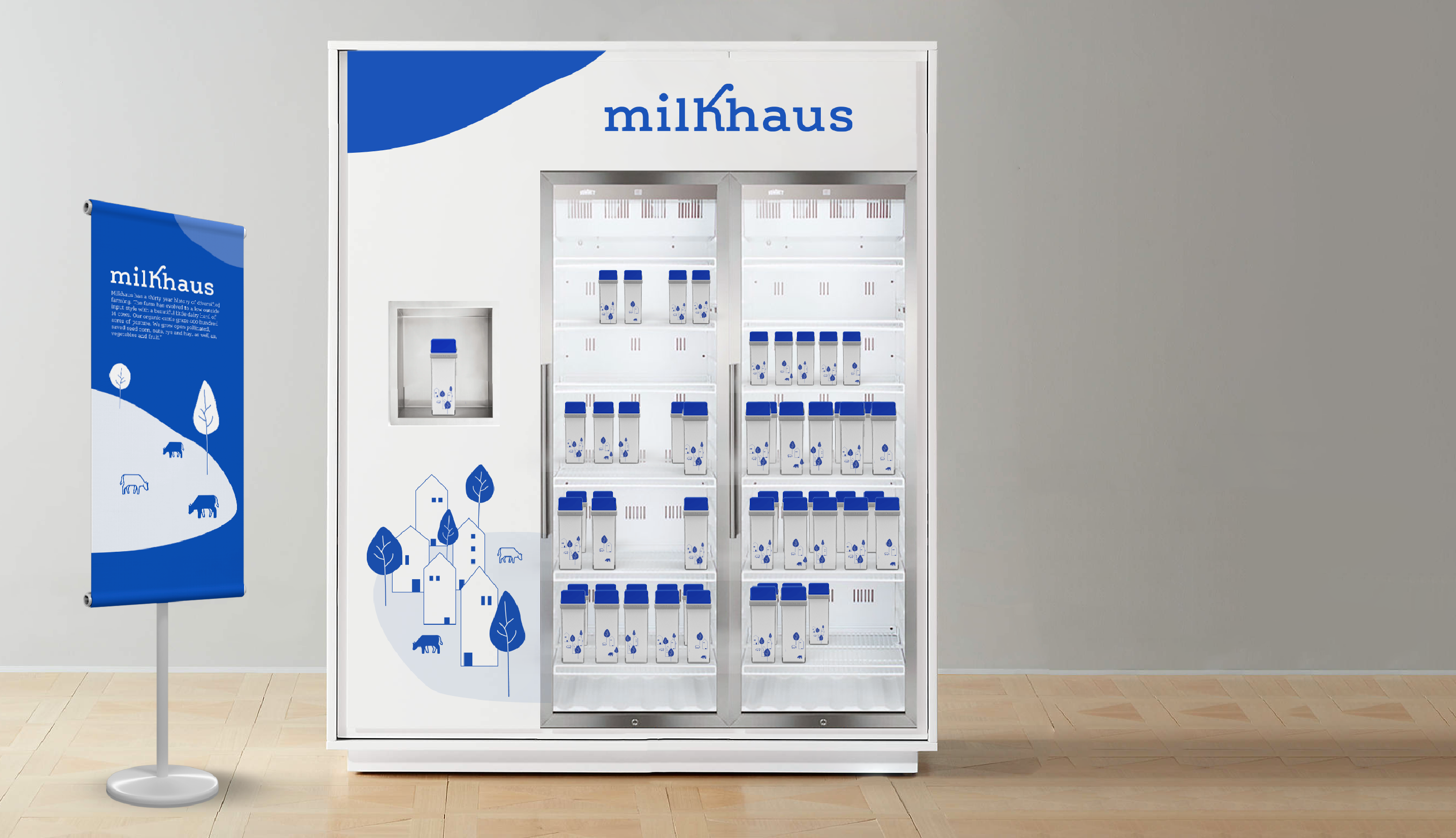 2 Eva Jarman Milk Kiosk.png
1 SummerC_Isometric (use this one if you can only use two).jpg
3 Hannah J stacked jug (with percentages).jpg
4a Brynn Squires Milk Pods iso open.jpg

According to the three BYU professors overseeing the project — Bryan Howell (industrial design), Laura Jefferies (food science) and Linda Reynolds (graphic design) — the work will lead to multiple international publications and presentations.
An academic paper on the research is nearly prepared for submission to a food science journal, and a second paper aimed at a design journal is in the works as well. Several of the students on the team are also scheduled to present their findings this summer at conferences in Barcelona, Spain and Nantes, France.
Creating new designs that are 'over the moon' is one thing, but for the students, making interdisciplinary connections and carrying out academic research side-by-side with students outside their major has changed their BYU experience for the better.
"Interacting with students from other majors was the best part of this experience," said industrial design major Rebecca Holbrook. "It was interesting working with graphic design students because we are all designers, but we have different approaches, and I enjoyed learning more about food science and venturing into the science corner of campus where I hardly ever go. I formed friendships with students who I normally wouldn't have interacted with."