New BYU Center for Animation announced
The president of Pixar lauded Brigham Young University's animation program after he delivered a speech at the university Thursday.
"Over the years, Pixar has worked with a lot of different universities around the country and hired people," said Ed Catmull, who is also president of Walt Disney Animation Studios. "One of the interesting things is, all of a sudden, in the last few years, we found that BYU has risen to the top. BYU has an extraordinary program here."
Catmull, whose formal speech discussed the ways Pixar seeks to stay sharp even amidst great success, told journalists at a post-speech press conference that BYU students hired as interns "come in and do production work right away and do a fantastic job."
"It's amazing to suddenly see that BYU is producing the best in the industry," Catmull said. "It's the perception not just at Pixar but also at the other studios that something pretty remarkable is happening here."
Catmull spoke after the announcement of the new BYU Center for Animation.
The new Center will "foster further collaborative work, both with external partners who mentor and hire our students as well as to create more formal and effective curricular collaborations across campus," said Dean Stephen Jones of the College of Fine Arts and Communications, which houses the animation major. The Center will be housed in the Fulton College of Engineering and Technology, and will be directed by animation professor R. Brent Adams.
After Catmull's speech was the premiere of the program's newest animated short, "Pajama Gladiator." The audience of more than a thousand roared with approval along with the howls and groans of the aliens battling the protagonist, a small boy named Eli up past his bedtime and armed only with his "blanky." The film is the latest in a line that has garnered seven College Television Awards, commonly known as "Student Emmys," from the Academy of Television Arts and Sciences; and two "Student Academy Awards" from the Academy of Motion Picture Arts and Sciences.
Writer: David Luker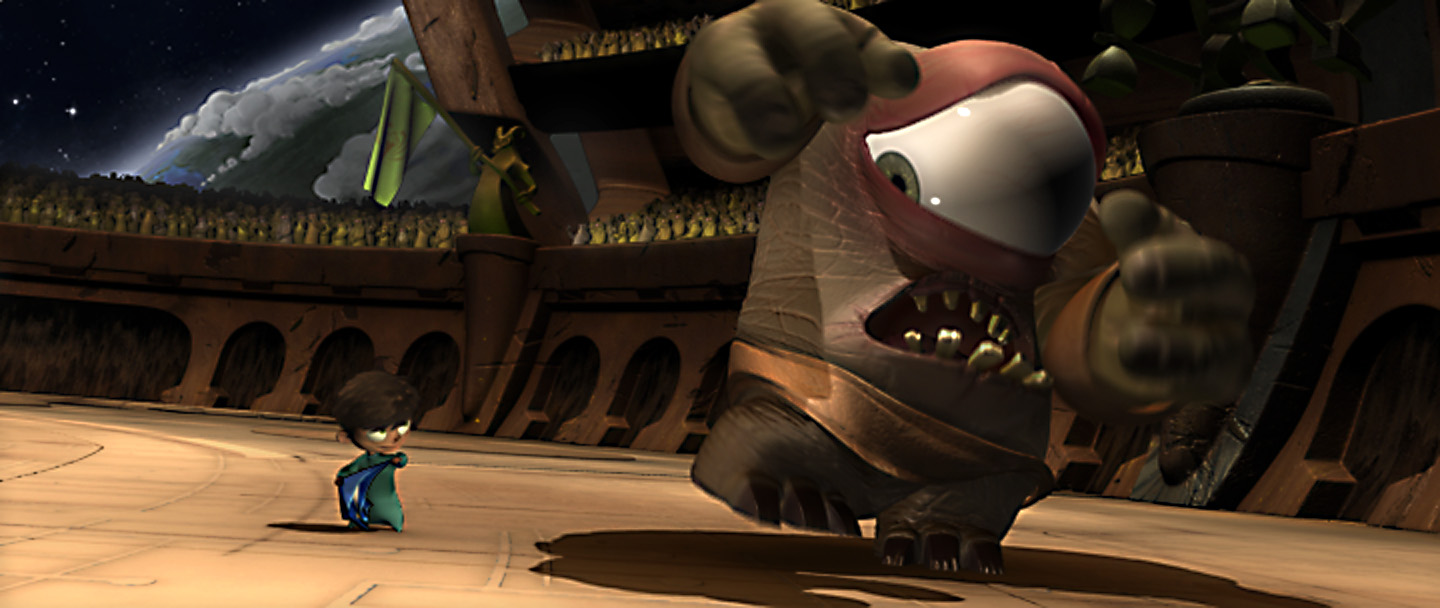 Gladiator4.jpg
BYU Center for Animation
Catmull0803-61031.jpg
Jaren S. Wilkey/BYU Photo
Eli_Color3.jpg
Jaren S. Wilkey/BYU Photo
Cyclops_Paint.jpg
Jaren S. Wilkey/BYU Photo
Catmull0803-61051.jpg
Jaren S. Wilkey/BYU Photo
Gladiator2.jpg
Jaren S. Wilkey/BYU Photo
Gladiator5.jpg
Jaren S. Wilkey/BYU Photo
poster.jpg
Jaren S. Wilkey/BYU Photo
Rico_COLOR.jpg
Jaren S. Wilkey/BYU Photo
Zap.jpg
Jaren S. Wilkey/BYU Photo
boy_2.jpg
Jaren S. Wilkey/BYU Photo
boy_4.jpg
Jaren S. Wilkey/BYU Photo
wires.jpg
Jaren S. Wilkey/BYU Photo
Lineup.jpg
Jaren S. Wilkey/BYU Photo