Honor follows another student film's screening at Sundance
The latest animated short film from Brigham Young University's animation program will be awarded a College Television Award (also known as a "student Emmy") later in March at the Academy of Television Arts Sciences Foundation gala in Los Angeles.
Students received their notification from the academy earlier this month. Their computer-generated short "Las Pinatas" chronicles the plight of two piñatas, an anxious cowboy and an oblivious bull, at the mercy of a flock of children. Incredible attention to details – including newsprint faintly visible under coats of paint on the presumably "papier-mâché" piñatas – may be part of what impressed the judges.
This is the fourth year BYU students have entered the College Television Awards and the fourth year they have been winners. They have earned five out of the twelve awards given over that span in the 3-D animation category, and also won another student Emmy in the two-dimensional category. Each year an estimated 500 films from more than 100 schools vie for each category. Two of the students' films have also won Student Academy Awards.
"These awards are a testament to the quality of students we have in the program," said R. Brent Adams, professor of industrial design. "These students are intelligent, creative and consistent. The bar is set high, and they rise to meet it every year."
Earlier this year another of the program's films earned the distinction as the first BYU student—produced film to play at the Sundance Film Festival. "Der Ostwind," a hybrid live-action/computer-generated short about a German flying ace, was a combined effort of the animation program and students from BYU's Department of Theatre and Media Arts.
The quality and complexity of BYU's 3-D computer animated short films attract the attention of major motion picture studios and video game companies eager to hire artists who use "both sides of the brain," said Adams. Recent graduates who worked on "Las Pinatas" have landed at top special effects and animation houses.
"BYU's niche is the ability to produce students who are just as comfortable drawing something freehand as they are sitting down at a computer and programming code to get the job done," said Adams, who says the program is high on the list of studios' key hiring institutions. "In the animation world, that's a valuable skill set to have, and the fact our students are able to land the jobs they are is proof of that."
Thomas Leavitt, director of "Las Pinatas," also won a student Emmy for his work on one of last year's entries, "Turtles." He is working at Blue Sky Studios, the group that animated the "Ice Age" movies, on the upcoming film "Horton Hears a Who."
Co-producer Kamy Leach is now at Digital Domain working on the third installment of the "Pirates of the Caribbean" films. Kate Kuttler, the other co-producer, works for a video game developer. Students who worked on the film as juniors and sophomores last year are now bearing down on next year's entry, "Pajama Gladiator," and interviewing for jobs and internships with studios like Pixar.
A core group of about 15 animation students, assisted by another 30, labored for 18 months to produce "Las Pinatas." The original music was scored by a BYU music major and performed by an orchestra made up of his classmates. The ill-fated cowboy piñata is voiced by another BYU student.
The BYU animation program is jointly sponsored by the School of Technology, part of the Ira A. Fulton College of Engineering and Technology, and the Department of Theatre and Media Arts and Visual Arts in the College of Fine Arts and Communications.
With all the recent success, Kelly Loosli, an assistant professor of theatre and media arts who works with Adams to direct the program, said the main goal is to not get lazy.
"We want to improve with each film we create. If we become satisfied with having won these Emmys, then we will rest on that success and find that our students will no longer be willing to work so hard and so long," said Loosli. "Ultimately, we aspire to flood the entertainment industry with high quality graduates."
pinata1.jpg
BYU animation program
pinata2.jpg
BYU animation program
pinata3.jpg
BYU animation program
pinata4.jpg
BYU animation program
7x4 1pinata300.jpg
BYU animation program
pinata5.jpg
BYU animation program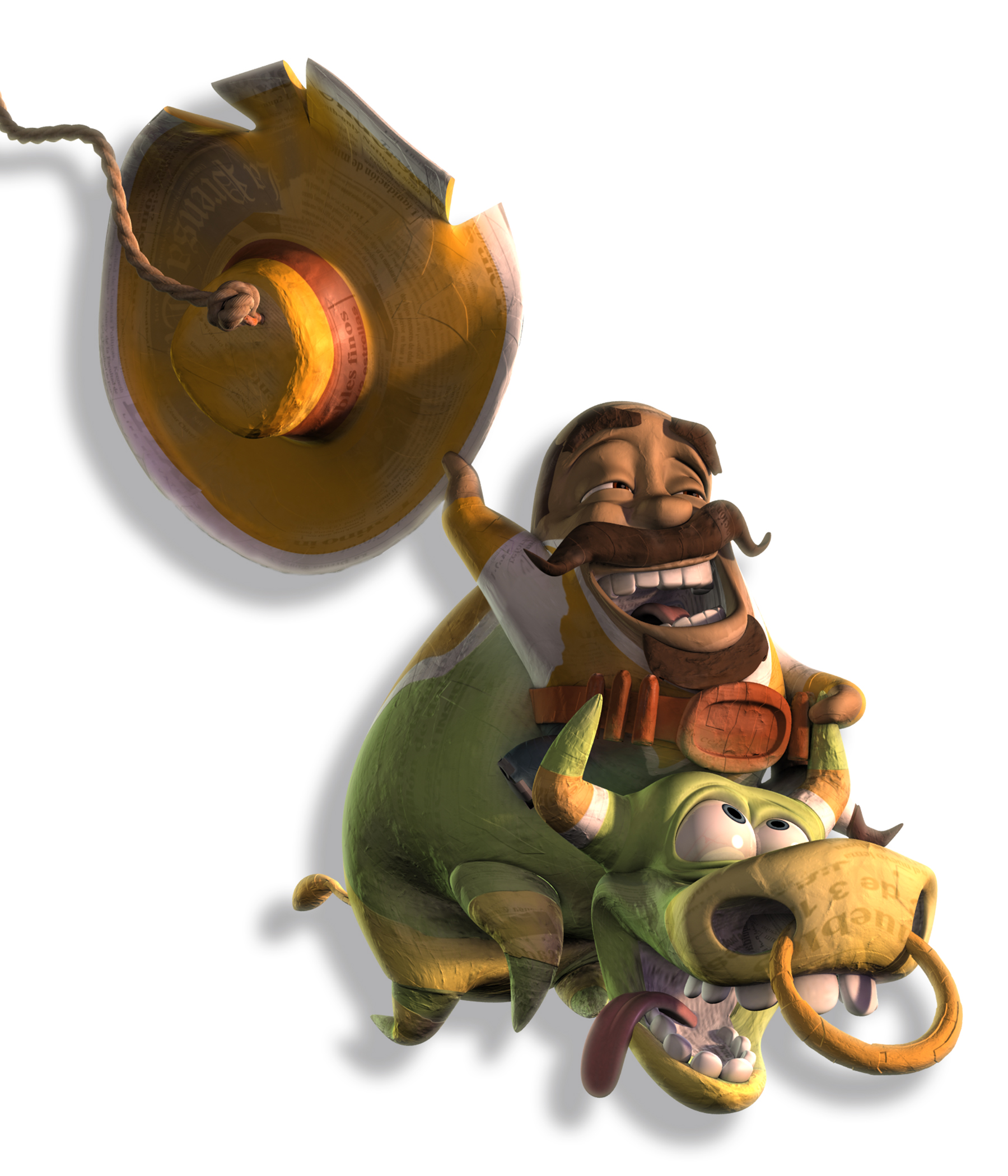 7x6 Pancho_Ride_white.jpg
BYU animation program
pinata6.jpg
BYU animation program
pinata7.jpg
BYU animation program
ToroExpressions.jpg
BYU animation program