PROVO, UTAH — Kevin J Worthen J.D., former dean of the J. Reuben Clark Law School and the current advancement vice president of Brigham Young University (BYU), will become the 13th president of BYU. Worthen will begin his tenure as president of the university on May 1, 2014.
President Henry B. Eyring of the First Presidency of The Church of Jesus Christ of Latter-day Saints and vice chairman of the board of trustees, made the announcement at today's devotional at BYU. Worthen succeeds Dr. Cecil O. Samuelson, who began his term as the 12th president of BYU May 1, 2003.
"I'm both honored and humbled, as you might imagine, at this opportunity to serve at the university. It's a place I love," Worthen said in a press briefing immediately after the announcement. "I don't consider myself measuring up to those who preceded me in this, but I take comfort in the fact that this decision was made by those who I have great confidence in."
The search committee, appointed by the university's board of trustees, considered many outstanding, well-qualified individuals for the position, including internal and external candidates, both men and women, from academe and industry.
Worthen follows in the steps of other BYU presidents who likewise served as deans at the university before being named as its president, including Jeffrey R. Holland, Rex E. Lee and Merrill J. Bateman.
Worthen also is the Hugh W. Colton Professor of Law at BYU and has particular expertise in federal Indian law. He is a former Fulbright scholar and clerked for Justice Byron R. White of the U.S. Supreme Court and Judge Malcolm R. Wilkey of the U.S. Court of Appeals for the D.C. Circuit Court. He also has been an associate attorney for Jennings, Strouss & Salmon in Phoenix.
A native of Carbon County, Utah, Worthen earned an associate degree from the College of Eastern Utah, where he was co-captain of the varsity basketball team. While at CEU, he also worked during the summer months as an underground coal miner in the Plateau Mine in Wattis, Utah.
Worthen earned his bachelor's and juris doctor degrees from BYU. He is currently serving as an Area Seventy of The Church of Jesus Christ of Latter-day Saints. He and his wife, Peggy Sealey Worthen, have three children and one grandchild.
In the devotional, before announcing Worthen's appointment, President Eyring took time to honor President Samuelson.
"Truly his leadership and influence for good cannot be measured," Eyring said.
In 1994, after an impressive career in academe as a professor, dean and university vice president, and as a senior vice president of Intermountain Health Care, Elder Samuelson was called to serve as a member of the First Quorum of the Seventy of The Church of Jesus Christ of Latter-day Saints. He was granted General Authority emeritus status Oct. 1, 2011. He was a member of the Presidency of the Seventy at the time of his appointment as president of BYU in 2003.
The announcement and expression of appreciation to the Samuelsons from President Eyring:
Writer:
PressConf.jpg
Jaren S. Wilkey/BYU Photo
JW114627.jpeg
Jaren S. Wilkey/BYU Photo
Worthen 1403-17 414.jpg
Jaren S. Wilkey/BYU Photo
Ovation 1403-17 386.jpg
Jaren S. Wilkey/BYU Photo
JW114635.jpeg
Jaren S. Wilkey/BYU Photo
JW114344.jpeg
Jaren S. Wilkey/BYU Photo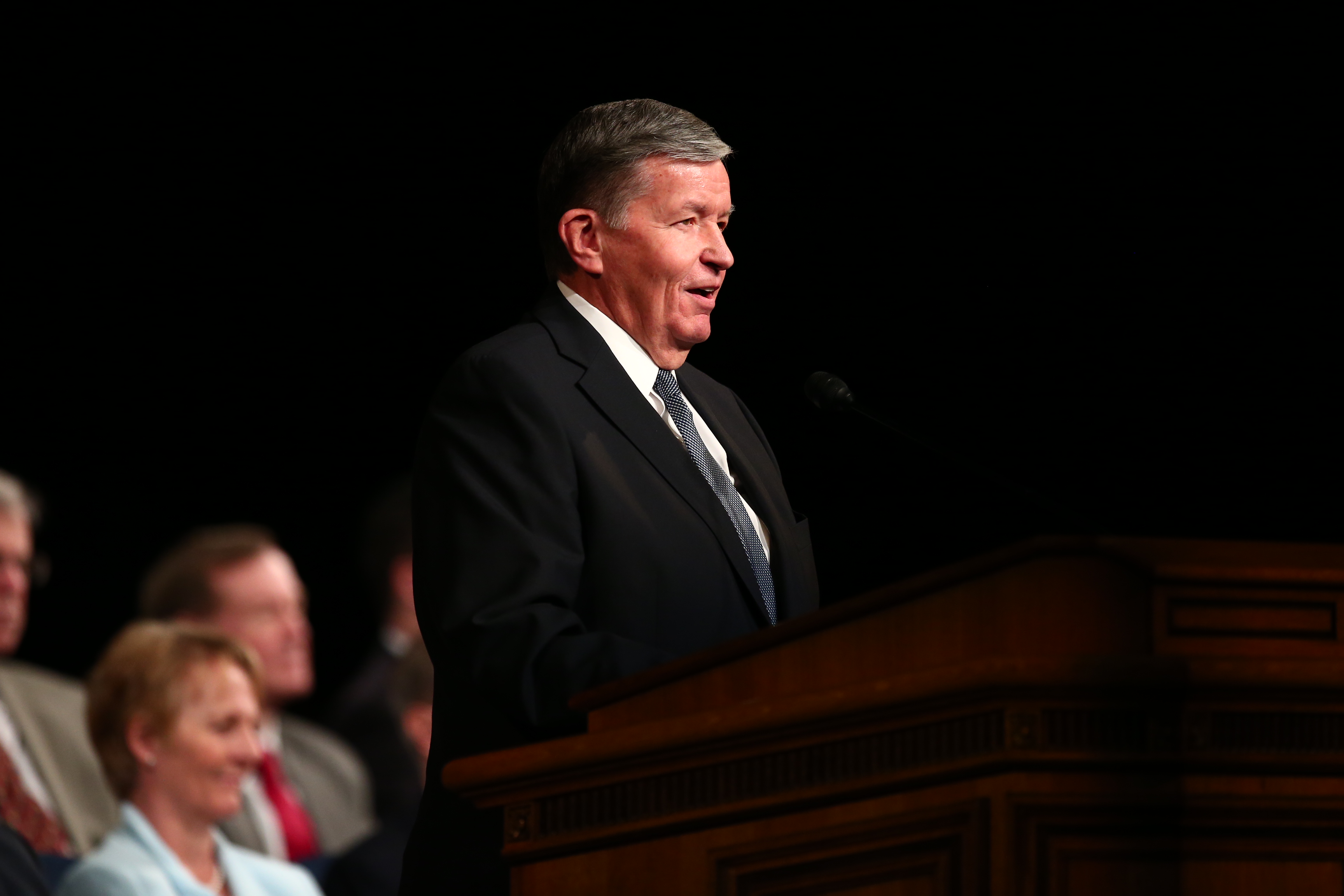 JW114431.jpeg
Jaren S. Wilkey/BYU Photo