Changes to annual program enhance educational experience
Just outside the southern Utah town of Escalante, Brigham Young University archaeologists-in-training took time from their dusty dig of ancient Native American structures on Arrowhead Hill to play tour guide for interested locals.
Asking students to explain their excavation of Fremont and Anasazi dwellings to outsiders is an attempt by project leader Joel Janetski to help them understand that full-time archaeology is more than trowels, brushes and shovels.
"The public is the financial support of a lot of archaeology via tax money, so we need to do a better job of sharing our findings with them," said Janetski, a professor of archaeology. Additionally, the new approach supports the university's emphasis on providing mentoring opportunities for undergraduates.
"First, the other archaeologists and I train and teach them. Then, the students have to think, to figure out what they want to convey to visitors," said Janetski. "They become the mentors. It puts them on the spot."
Following the tour of the windblown site, other students -- two budding anthropologists -- asked visitors to fill out a questionnaire that reflected their attitudes regarding the dig. Additionally, all who came to the site this spring, including at-risk teenagers, Bureau of Land Management officials and tourists, were allowed to get involved by helping dig, haul and sift the dirt that the BYU crew then used to gain insight into the land's former residents.
The tag-team approach to understanding the past and present at the same time is a recent change to BYU's annual archaeology field school, a program started in 1969 to prepare students for future careers.
Students such as senior Emily Wise from La Mirada, Calif., appreciate the experience.
"The field school is vital. It's the only way to actually learn the practical skills needed to dig," said Wise. "Before, when I was in the preparatory class, all of the techniques we discussed were just jargon to me."
Giving tours to visitors helps Wise relate what she does to other people, she said.
"It gets me simplifying and communicating to others what we're trying to accomplish here," said Wise. "It's vital to have a good communication line open to the public. The locals know everything about this place, so if we communicate what we're doing and its importance, we shouldn't have any barriers to our work."
Tim Mathews and Kate Campbell, BYU anthropology students, were hired by Janetski to head up the investigation into locals' attitudes regarding the dig. Mathews said although some residents were aware of the dig, most didn't know much beyond that. Other residents even thought the archaeologists were looking for dinosaur bones.
"Archaeology is more than just digging. You need to involve the community to make it work -– or make it work better," said Mathews. "We found that the town would like to be even more educated about what we're doing."
Cal Porter, an Escalante resident and regular visitor to the site, said he appreciated the effort to inform the town about the project.
"I think it's great," said Porter. "I just wish more people in town would come up here to have a better idea about what's really going on."
The site, known locally as Arrowhead Hill, was one of five in the area that students excavated this year. It yielded pottery and bone shards, arrowheads and a mystery.
During the methodical process of removing layers of dirt, Rich Allen, a senior from Provo, uncovered an oval, flat stone accompanied by three monolithic rocks used for grinding seeds or corn -– all oriented vertically, as if at attention.
"We're not sure why they're like that. Usually we find them lying flat within a layer. But it's one of the better finds in the dig -– so I feel good," said Allen. "It's a functional item. It tells me that people were here, growing corn."
An onlooker hypothesized that perhaps the grinding stones were buried in that position, maybe as part of a ritual. Further digging and comparison between dirt surrounding the stones and adjacent earth samples provided no evidence that was the case. After other possibilities were discussed and dismissed in the face of conflicting data, the mystery remained.
"Somewhere there's a Fremont Indian laughing," said Jake Sauer, a recently graduated BYU student from Palisade, Colo., who will attend graduate school at the University of Kentucky in the fall thanks, in part, to time in the field school.
"BYU has some of the best archaeologists anywhere, and they have shared their experience with me," said Sauer. "My time in the field school has helped build my resume, and I've been able to publish."
In the fall, students will analyze the artifacts and information they collected and write articles for potential submission to peer-reviewed scholarly journals. Before attending the field school, each student submitted a research proposal. The analysis class will revisit the proposal and serve as a guide for their direction of study.
The proposals, thankfully, are flexible, said student Dan Gashler.
"I was hoping to analyze any corn we found to figure out dietary information about the people who lived here," said Gashler. "So far, we haven't found a lot of really good samples, so I may have to pick something different to study, like ceramics, which are plentiful here."
Such questioning, reasoning and adjusting are all part of what it takes to train students to become archaeologists, said Janetski.
"This is real archaeology. We aren't manufacturing a site for them to practice -– it's the real thing."
Escalante1-h.jpg
Jaren S. Wilkey/BYU Photo
Escalante2-h.jpg
Jaren S. Wilkey/BYU Photo
Escalante3-h.jpg
Jaren S. Wilkey/BYU Photo
Escalante4-h.jpg
Jaren S. Wilkey/BYU Photo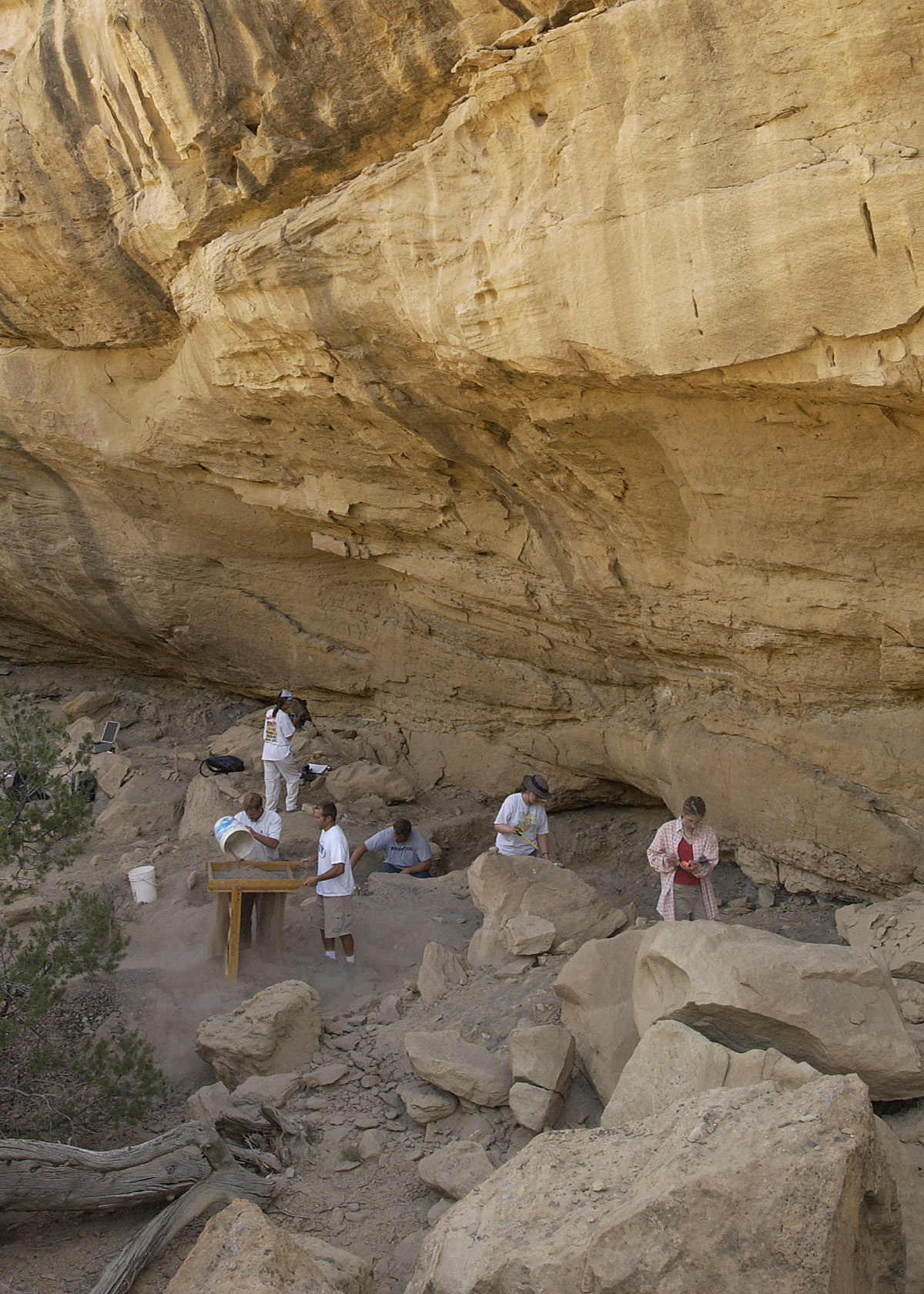 Escalante5-h.jpg
Jaren S. Wilkey/BYU Photo
Escalante6-h.jpg
Jaren S. Wilkey/BYU Photo
Escalante7-h.jpg
Jaren S. Wilkey/BYU Photo